St Arnaud Racecourse is off Wimmera Hwy St Arnaud VIC and is operated by Wimmera Racing Club.
Like most Victorian country towns, people had been racing horses in St Arnaud for some time before the formal establishment of the St Arnaud club in October 1867. The town hosted its first official meeting in March 1867 and has a long history of thoroughbred racing.
One of the smaller country clubs in Victoria, St Arnaud Racecourse has suffered as a result of the move to rationalise racecourses throughout Victoria, losing meetings.
These days St Arnaud Racecourse hosts just two meetings per year under the banner of the recently formed Wimmera Racing Club, however it is hoped that with fewer meetings to concentrate on racing in St Arnaud can continue to thrive long into the future.
Though a lack of water has been a problem in recent years, the scheduling of the town's two meetings in spring time and some welcome recent rain mean the surface should remain in good condition.
Contact:
ST. ARNAUD RACECOURSE
Office hours:
Mon-Fri 8:30am-5pm
PO Box 514
Stawell
VICTORIA 3380
Ph: 03 5358 5288
Fax: 03 5358 5244
Email: p.penfold@countryracing.com.au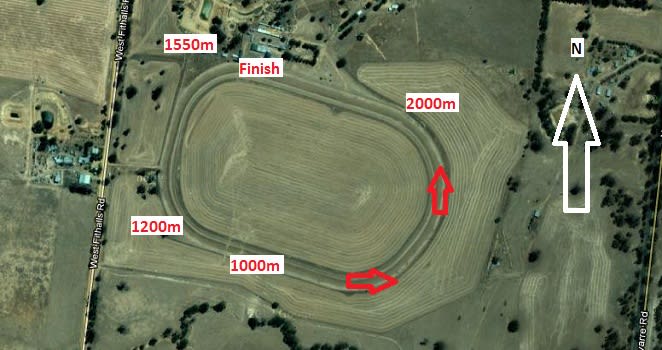 The central location of the St Arnaud Racecourse also helps ensure St Arnaud's popularity as a racing venue with country owners and trainers.
The St Arnaud Cup Day is now held in late October, when racing is foremost on the minds of all Victorians, making it an extremely popular day.
At the track there is full catering, tote and bar facilities available on-course.
And when all the action is done and dusted at the racecourse you can catch a lift into town on one of the free courtesy buses and head to the official after party at the 'Farmers Arms' - it couldn't be any easier.
Racecourse Details:
The St Arnaud Racecourse has a 1600 metre circumference and a 400 metre long home straight, giving all horses a chance.
The track has gentle upslope on the back straight and an equal downslope on the home straight. Soil is clay based and the track is irrigated
Nearby Racetracks include Donald Racecourse, Echuca Racecourse and Bendigo Racecourse.