Sale Racecourse is located at corner Sale-maffra Road & Dawson Street, Sale, VICTORIA.
Sale Racecourse is operated by the Sale Turf Club and has built a reputation as the premier Racecourse on the provincial racing circuit in Australia. It is situated approximately 2 hours 25 minutes from Melbourne.
Sale Racecourse has 21 race meetings hosted annually, seven of which are classified as 'event days.
The Sale Cup is run on the last Sunday in October and is the jewel in the crown of Gippsland Racing.
Featuring the $120,000 Eastcoast Plumbtec Sale Cup, this race always produces a quality field that is seldom seen outside of Melbourne. Many of the winners go on to win group races.
Other Event Days at Sale Racecourse:
The Sale Quality - run in February - is the Clubs summer feature sprint race and the field always lives up to that name
Australia Day - also combined with our 'Kids Day Out' and provides great fun and value for families celebration
Ladies Day - kicks off our Spring Racing season with heaps of hospitality on offer. For the Ladies we have a Ladies Marquee and Gentleman a Sportsman's Luncheon with a high profile guest speaker
Heyfield, Maffra & our Oil Industry days are run on weekends throughout Autumn and Winter. Great days to come and enjoy a BBQ, free children's entertainment and great racing action
Amenities are first class at the Racecourse, with a sponsors/function room above the administration building, Members' lounge on the winning post, as well a public dining room and an owners a trainers bar.
Sale Turf Club can offer both large and small businesses the opportunity to enter into partnership agreements which are mutually beneficial for both parties.
Partnership strategies can be developed individually to suit the requirements of your company.
Sale Racecourse has everything from on-course promotions, excellent events naming rights, corporate entertainment packages can be built into each tailored partnership package.
Contact:
SALE TURF CLUB
PO Box 96,
Sale,
Victoria 3850
Ph. (03) 5144 2962
Fax (03) 5144 4153
Email: saletc@netconnect.com.au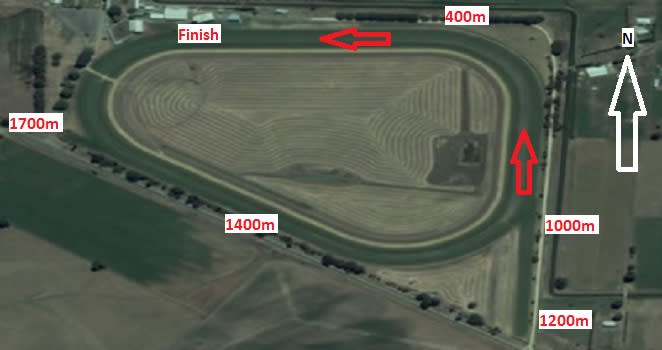 The Sale Race Club hosts around 21 racing meetings annually with the feature meeting being the Sale Quality Handicap each February and the Sale Cup later in the year.
Racecourse Details:
Sale racecourse has a track circumference of 2,040 metres with a home straight being 353 metres long. Sale races are run from 1,000 metres up to 3,200 metres for hurdles and when the rail is in the true position has maximum fields of 16 except for 1,400 metres where the maximum is 14.
There is long runs to the first turns from most race starts with wide sweeping turns.
In sprint races up to 1200m there is just one turn.
The track is fully irrigated, with access to Bore, Irrigation and Dam waters.
Nearby Racetracks include Traralgon Racecourse, Bairnsdale Racecourse and Moe Racecourse.