Pakenham Racecourse (Racing.Com Park) is located at 420 Nar Nar Goon-Longwarry Road, Tynong, Victoria. It relocated to Tynong is 2015. There is both a Turf Course and Synthetic Track.
The Racecourse is within an hour's drive from Melbourne on the city fringe (74km), Pakenham provides a country atmosphere within reach of the city, without the metropolitan price tag. There is a Metro Train service to the Pakenham Station and then a Courtesy Bus Shuttle to the track.
The Pakenham Racecourse is operated by the Pakenham Racing Club and was founded in 1875.
Since its inception, the Club has on many occasions upgraded its facilities and improved racing standards.
More than one hundred trainers and owner trainers prepare their horses at Pakenham Racecourse. Most have only small teams, the bigger district trainers being permitted to train at the training complex at Cranbourne.
Most successful trainer has been Ray Webster, who won the Melbourne Cup in 1943 with Dark Felt and the Caulfield Cup in 1944 with Counsel. Nethergold, another of his team, ran second in the 1959 Melbourne Cup.
He won many races during his long career, and upon retirement was honoured by the V.R.C. in being allowed to retain his badge.
Contact:
PAKENHAM RACECOURSE
420 Nar Nar Goon-Longwarry Road,
Tynong,
Victoria 3813
Ph. (03) 5940 6600
Email: info@pakenhamracing.com.au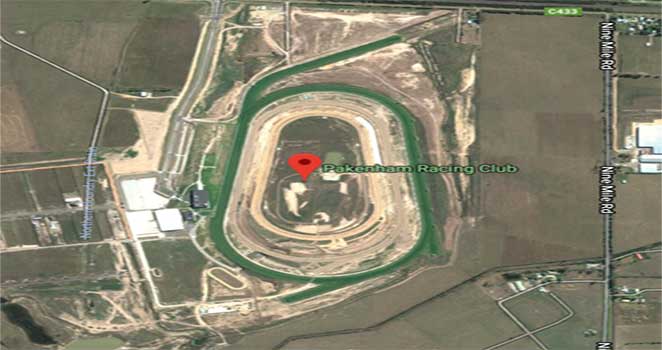 Pakenham Cup is the feature race held at the Pakenham Racecourse. Prize money pool for the day is over $1,000,000
To become a member at the club: Full Membership - $185 per year and Seniors is $110.00. The Full Membership comes with one (1) Members Badge, and no additional Guest Passes. However, if you do want an additional Guest Pass you can purchase one (1) with your Membership..
Racecourse Details:
Pakenham Racecourse has a track circumference of 2,400 metres and a home straight being 480 metres long. It has 2 good long straights, well grassed and irrigated. Inside barriers are an advantage for most starts due to the 2 long sweeping turns.
Nearby Racetracks include Cranbourne Racecourse, Mornington Racecourse and Stony Creek Racecourse.