Mortlake Racecourse is located at the home of the Mortlake Racing Club.
Travel along the Princes Highway to Geelong and then along Hamilton Highway to Mortlake. From the Mortlake township directions to the track are West along Dunlop Street to end. turn right towards Hamilton. Approximately 130 metres then turn left.
The Moyne Shire Derby Day Mortlake Cup is conducted at the Mortlake Racecourse on the premier day for Spring Racing in Victoria.
Mortlake Racecourse has a long and proud history of providing grass roots racing at its best in the South West.
Derby Day at Mortlake promises you a true country race day experience in a beautiful country setting.
Whether you are seeking the invigorating country air, the idyllic surroundings, the warm welcome and relaxing fun atmosphere or the appeal of vibrant colours or thundering hooves on the turf then we suggest you get yourself along to Mortlake as they can provide you with them all.
The Mortlake Racecourse is operated by the Mortlock Racing Club and conducts two TAB race meetings each year.
The Mortlake Cup is run in September each year.
Contact:
MORTLAKE RACING CLUB
PO Box 80,
Mortlake,
Victoria. 3272
Ph. (03) 5599 2572
Fax (03) 5599 2806
Email: mrc@ansonic.com.au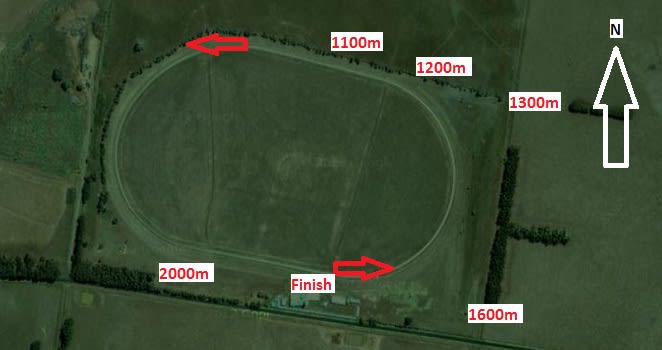 Be a part of the action at Mortlake Racing Club by becoming a member.
Mortlake Racing Club members have access to functions and exclusive club merchandise. For more details on membership, contact Nicola Herry, Club Manager, on 0437 512 919.
Racecourse Details:
Mortlake Racecourse is a gentle undulating track that has wide straights and turns. The track drains reasonably well and is well-grassed. The Soil type is clay. The track circumference is 1800 metres with a home straight being 250 metres long.
In sprint races fields are there are a maximum of 12 starters but in races 1600m and further there is a maximum of 14 runners when the rail is in its normal position.
Nearby Racetracks include Terang Racecourse, Warrnambool Racecourse and Geelong Racecourse.