Mildura Racecourse is located at Mildura Recreation Reserve Mildura, Victoria.
Mildura Racecourse is home to the Mildura Race Club.
The Mildura Racecourse is situated 3.5 kms east of the township off Cowra Road and is approximately 550kms north-west of Melbourne.
The Mildura Race Club conducts nine events a year, eight of which have full TAB coverage. The Mildura Cup is run in May each year at the Mildura Racecourse.
Contact:
MILDURA RACE CLUB
PO Box 286,
Mildura,
Victoria. 3502
Ph. (03) 5023 1759
Fax (03) 5023 7594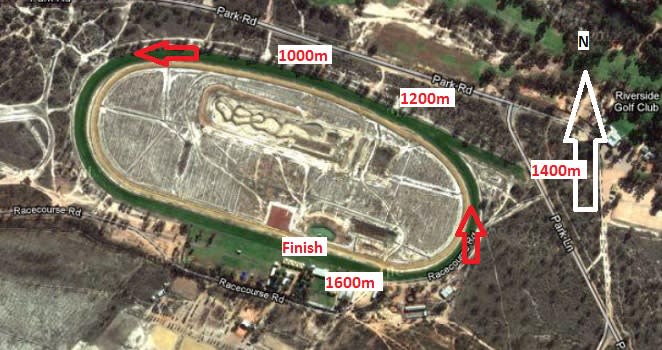 Mildura: Experience respected wineries and bountiful local produce that is chosen in the preparation of great food served up at quality restaurants and available at markets, eateries and cellar doors.
With a Mediterranean climate the Mildura race course is surrounded by the mighty Murray River and miles of vineyards.
Mildura Racing Club offers members:
Admission to all 9 meetings throughout the season including the Euston Club Resort Mildura Cup and Melbourne Cup Day.
The popular Winning Post Bar located at the Mildura Racecourse will now provide exclusive access to members only on Mildura Cup Day and Melbourne Cup Day.
Member rewards throughout the season including prize draws at selected events.
Racecourse Details:
Mildura Racecourse has a track circumference of 1765 metres and a home straight being 390 metres long.
Other featured meetings include Melbourne Cup day and the Twilight Christmas Party Races in December.
The track has a level surface and is approx 15m wide and then widens for the straight to 20m in width. Turns are well-cambered and the track is well-grassed. The soil type is loamy an the track is fully irrigated.
The course is known to be difficult if drawn out wide, inside barriers are a definite advantage.
Nearby Racetracks include Swan Hill Racecourse,Warracknabeal Racecourse and Donald Racecourse.