Horsham Racecourse is located at Bennet Road Horsham VICTORIA.
Horsham Racecourse is situated on the outskirts of The Grampians National Park in Western Victoria approximately 310 kms north-west of Melbourne.
It is believed they were racing horses in Horsham in the 1850s, and club records show the first Horsham Cup was run in 1861. It is not clear exactly when official racing started in the town but it certainly has a long history.
The Horsham Racecourse is operated by the Horsham District Racing Club as a result of a 1965 merger between the Horsham St Patrick's Racing Club and the Brim Springs and Rosebrook Race Club.
Despite this rationalisation the club remained at a crossroads. In the late 1960s the Racecourse Licenses Board commissioned a report which found that the surrounds at the Horsham Racecourse were in poor condition and in need of repair.
The Board urged an amalgamation that would have seen nearby Murtoa and Horsham racing at one venue.
Both clubs immediately set about upgrading their facilities at the Horsham Racecourse and is thriving today.
In 1992 the Horsham club joined forces with the Horsham Harness Racing Club and a trotting track and function centre were built at what is now known as the Horsham Racing Centre.
Contact:
HORSHAM RACECOURSE
Horsham & District Racing
Club PO Box 358 Horsham,
VICTORIA 3402
Club Contact:
Lisa Inkster
M: 0427 989 212 (during business hours)
Email: horsham@countryracing.com.au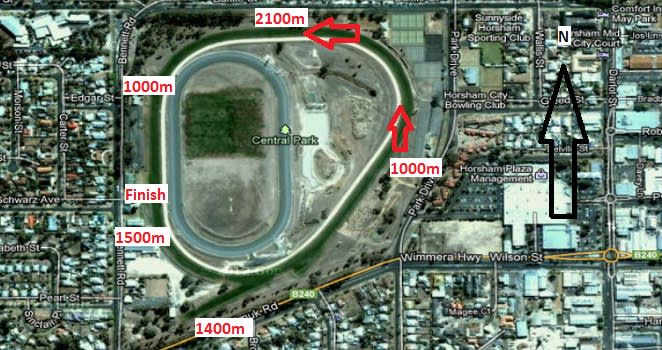 Racing at Horsham Racecourse has come on in leaps and bounds since then and the venue is fast establishing itself as a leading thoroughbred training centre.
The Horsham Cup is run in late October on a Sunday each year, right in the middle of the Melbourne spring carnival.
Horsham & District Racing Club Membership ($25) supports the local Horsham Club and entitles the member entry to all 3 race meetings at Horsham and entry to the members bar. As a member with HDRC, you are entitled to admission to all Horsham & District Harness Racing Club race dates.
Racecourse Details:
Horsham Racecourse characteristics are fully irrigated track with wide straights and long turns. The limit of starters for each race is 14 runners when the rail is in the true position
Turns are cambered and have plenty of space. Chutes allow for fair distance from starts before turn. Soil type is clay loam.
The course has three chutes which sees runners given plenty of straight running before turns for all distances. This coupled with cambered bends makes for fair racing.
Nearby Racetracks includes Murtoa Racecourse, Warracknabeal Racecourse and Stawell Racecourse.