The Colac Racecourse is located at Cnr Harris Road & Main Street, Colac, Victoria.
The Colac Racecourse is 148 km's south west from Melbourne, access via the Princess Hwy.
The Racecourse is operated by the Colac Turf Club and it has a long and proud tradition of turf racing, education and training of horses for more than 145 years.
The course is nestled at the foot of the Otway Ranges, the Colac Turf Club is one of the renowned country racecourses in the Great ocean Road region.
The Colac Gold Cup has become a much sought after trophy among top trainers within Victoria for many years and the record books show why. The past five Country Racehorses of the year have either won the Colac Gold Cup or been trained at Colac Racecourse.
The club's three big race days in December, February and March draw many visitors to the region to enjoy grassroots community racing in a relaxed rural setting.
Contact:
COLAC TURF CLUB
PO Box 127,
Colac,
Victoria. 3250
Ph. (03) 5231 5611
Fax (03) 5592 2408
Email: colac@countryracing.com.au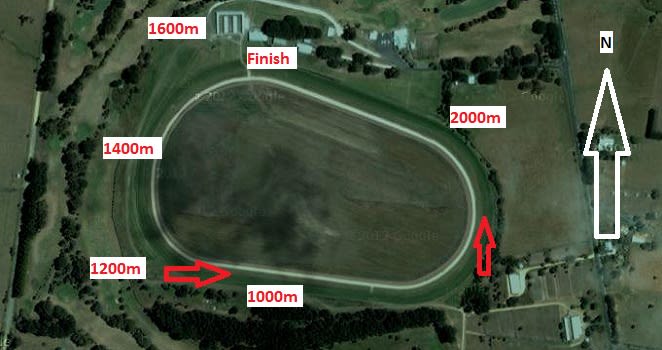 The Colac Turf Club has kept up with the times and the old grandstand has been upgraded to include catering facilities.
The betting ring is undercover and grassed viewing areas with a backdrop of trees create a great atmosphere. The club bills itself as the 'Gateway to Western District Racing' and the hundred year old Colac Gold Cup attracts good fields and crowds.
Racecourse Details
The Colac Racecourse has a long and steady climb from the back straight to the 800 metres mark before a downhill run around the turn and into the home straight. Home run of 350 metres is almost flat. The track circumference is 1740 metres.
The course is loam soil, grassed with Victorian and New Zealand rye.
Nearby Racetracks include Camperdown Racecourse, Terang Racecourse and Geelong Racecourse.