Penola Racecourse is located at Riddoch Highway Penola SA 5277.
Penola is one of the oldest racing clubs in the south east of South Australia. The racecourse has a warmth and a charm about it like few others.
While race meetings in the mid 1800s were relatively informal affairs Penola Racecourse is attributed with holding the first official meeting. It was held over three days in February 1856.
Races were held in the streets around the town which formed the track. Current landmarks still standing today include the Royal Oak Hotel and the Presbyterian Manse being on two of the street corners.
The move to the current location was made in May 1906 when the club bought 96 acres for 411 pounds.
In 1979, Kalangadoo Racing Club, which was formed in May 1898, joined with Penola.
The main event at the Penola Race Club is the Penola Cup, which is usually run in the first week of April each year at the Penola Racecourse.
Contact:
PENOLA RACING CLUB
PO Box 300,
Penola,
SA 5277
Ph. (08) 8737 2495 Racecourse
Ph. Mobile 0412 995 789
Email: jim.prc@live.com.au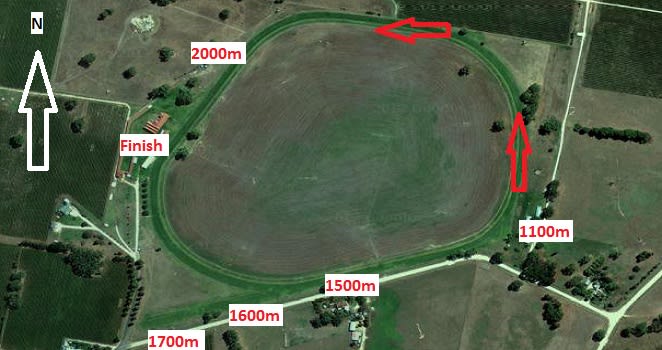 The town of Balaklava is situated on the outskirts of Adelaide and is 90 kilometres away from the urban centre.
Penola Racecourse is also the home course of the Millicent Racing Club, which first conducted meetings in December 1874.
The Penola Cup which is run in April each year, is Penola's main race meeting.
Racecourse Details:
Penola Racecourse has a circumference of 1835 metres and a home straight of 280 metres being a very short home straight to the finish line.
The course has a very sharp turn at 1100 metres mark which is a disadvantage to runners drawn out wide.
It's rounded lay out sees competitors in distances 1200m and over negotiate at least 2 corners thus making a good barrier draw vital.
Nearby racecourses include Naracoorte Racecourse, Mount Gambier Racecourse and Edenhope Racecourse