Oakbank Racecourse is at Oakwood Road, Oakbank 5243 South Australia.
The racecourse is located in South Australia in the Adelaide Hills, about a 45 minute drive from Adelaide.
Oakbank Racecourse is home of the Oakbank Racing Club, home to jumps racing in South Australia, which combines with flat racing on Easter Saturday and Monday... since 1876.
While it's one of the oldest tracks anywhere in Australia it's also one of the least used tracks in the country as well. From 1876 till 2009, Oakbank Racecourse had only 2 events annually.
The 'Oakbank Experience' is unique, offering a carnival atmosphere in breathtaking surroundings.
Thousands of people from across South Australia to take part in a race day full of activities for all ages over the two day event at Easter.
Oakbank is a fantastic picnic festival for all the family. On Easter Saturday up to 45,000 people attend this meeting.
The Centre of the Oakbank Racecourse becomes a Disneyland for all; a place of fun and festival for the young and the young at heart.
On Easter Monday, a strong crowd of 70,000 attends the meeting making it the biggest Picnic Race Meeting in the world.
At the Oakbank Racecourse, it has been over a 125 years since Tormentor won the first Great Eastern Steeple around the undulating hill course back in 1876.
This event has always been raced on Easter Monday except during World War Two when the army took over the racecourse and it was run at Morphettville Racecourse and Victoria Park.
Contact:
OAKBANK RACING CLUB INC
53 Wright Street,
Adelaide,
SA 5000
Ph. (08) 8212 6179
Fax (08) 8231 5191
Ph. (08) 8388 4072 Racecourse
Email: oakbank@wantree.com.au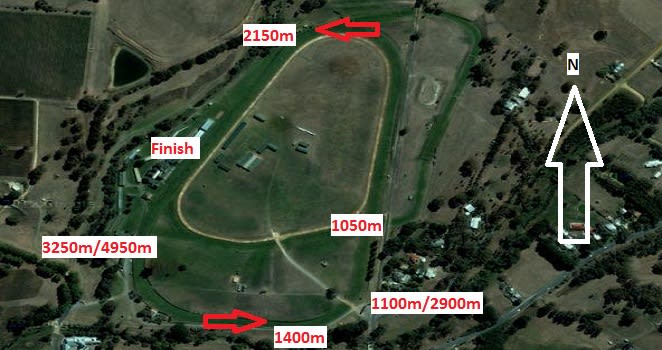 The town of Balaklava is situated on the outskirts of Adelaide and is 90 kilometres away from the urban centre.
Some great horses over the years which have completed the exceptional task of winning 2 Great Eastern Steeples over the long distance course includes Darkie (1877 and 1878), Trigger (1881 and 1884), Swordfish (1885 and 1887), Vanguard (1912 and 1914), Tramp (1913 and 1915), Mount Cooper (1926 and 1927), Club Spirit (1972 and 1974) and Light Hand (1995 and 1996).
Some great jockey who have won the the big race include Laurie Meenan, Alex Fullarton, Jamie Evans, Mick Patton, Brian Robert Smith, Pug McKenzie, Bluey Armsden, Don Wraight, Tom Glennon and James Scobie.
Racecourse Details:
Oakbank Racecourse is very unique containing an extended steeple circuit and the regular 1800 metres circuit which have a start finish straight approximately 360 metres long.
Racetracks nearby include Strathalbyn Racecourse, Gawler Racecourse and Murray Bridge Racecourse