Murray Bridge Racing Club is situated at Murray Bridge Racecourse, about a 78 Km drive from Adelaide.
Murray Bridge racecourse is about a 1 hour drive down the Sth Eastern Freeway.
The Racecourse has the following amenities:
Large undercover betting ring
Numerous bars
Cafeteria
Ample lawn area and trees for shade
TAB betting
Murray Bridge Racecourse is operated by the Murray Bridge Racing Club and was established in 1899.
It held its first race meeting at its current location on Maurice Road on July 25th 1914.
The Murray Bridge Racecourse is situated within 3 kms of the luscious banks of the Murray River.
Murray Bridge Racecourse also plays host to the Rotary Country Markets, Carols by Candlelight, The Australian Childhood Foundation, Variety Club Bash, Diabetes SA, Aged Health Care Trade Show, Aboriginal Health Fair and many other community events and functions, in addition to business trade shows and demonstrations.
Contact:
MURRAY BRIDGE RACING CLUB
2a Maurice Road,
Murray Bridge,
SA 5253
Ph. (08) 8532 2310 Racecourse
Ph. (08) 8352 5676 Fax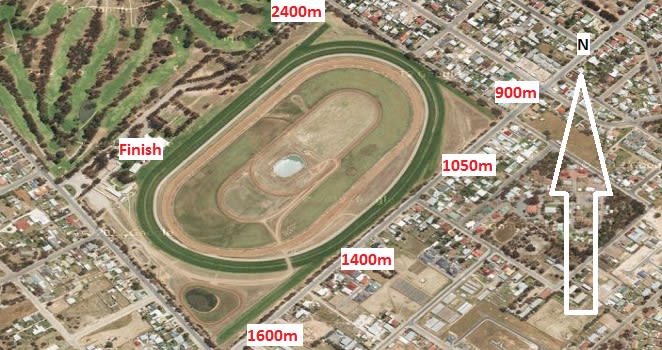 The town of Balaklava is situated on the outskirts of Adelaide and is 90 kilometres away from the urban centre.
Murray Bridge Racing Club has been operating its Upgraded Thoroughbred Training Complex since 1996.
Murray Bridge Racing Club supports the following:
1. Local Community
2. Business and Community Groups
3. Members of the Murraylands Regional Tourism Association and Murray Bridge Business & Tourism Association.
4. The Club is also one of the largest not-for-profit employers within the region and contributes significantly to the local economy.
Racecourse Details
The Murray Bridge Racecourse has a circumference of 1,850 metres and a straight of 420 metres with four starting chutes throughout the course.
Not only is there a racing track, a training complex at the course was upgraded in 1996.
The Race Club holds 14 racing meetings throughout the year with the highlight being the Murray Bridge Gold Cup, which is usually run in October each year.
Nearby tracks include Strathalbyn Racecourse, Oakbank Racecourse and Gawler Racecourse.