The Mount Gambier Racecourse is located 439 km south east of Adelaide, Mount Gambier.
It is the jewel of South Australia's south-eastern region and is operated by Mount Gambier Race Club.
Mount Gambier is one of South Australia's largest regional centres, known for its unique and ancient landscape of volcanic craters, lakes, limestone and mysterious underground waterways.
The Mount Gambier Racecourse has a circumference of 1850 metres and a straight of 400 metres. The racecourse is officially known as the Allan Scott Glenburnie Racecourse.
Mount Gambier Racecourse is known for its famous dog leg which occurs in the run for home.
The main event the Mount Gambier Race Club holds is the Mount Gambier Cup Carnival which is huge event on the Limestone Coast social calendar. The Mount Gambier Gold Cup is run in May each year at Mount Gambier Racecourse.
Contact:
MOUNT GAMBIER RACING CLUB INC
PO Box 558,
Mount Gambier,
SA 5290
Ph. (08) 8725 4466
Racecourse Fax (08) 8723 0318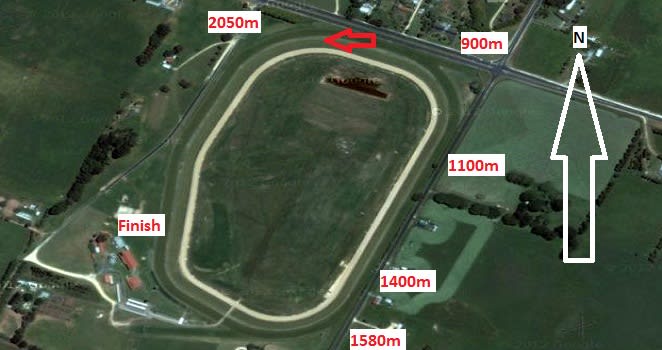 In 2010, the Mount Gambier Racing Club was elevated to Provincial status, meaning more prize money for races at Allan Scott Glenburnie Racecourse.
Mount Gambier Racing Club has been racing at the Mount Gambier Racecourse since 1883. The course is located about seven kms from the city centre.
Mount Gambier Racecourse Details
The racecourse consists of three tracks - the course proper (1850m), steeple course (1600m) and sand track - and starting chutes at the 900m, 1550m, 1800m and 2400m (Gold Cup start).
The most distinguishing part of the track is the Dog Leg at the 200 metres mark in the home straight.
Mount Gambier Racing Club hosts ten race meetings every year. This number may now increase due to the rise in provincial status.
Race meets are conducted throughout the year.
Feature races include the Twilight meeting in December, the Summer Cup in January and the Cup Carnival in March.
There are excellent undercover facilities provided for public use, with well appointed clubrooms in the upstairs area for club members.
Non-members also have access to the upstairs area on most race days except for the Cup Carnival period. The downstairs area of the pavillion is totally enclosed for race goers comfort.
Nearby racecourses include Penola Racecourse, Casterton Racecourse and Naracoorte Racecourse.