The Balaklava Racecourse is located at Racecourse Road Balaklava, South Australia 5461.
The Balaklava Racing Club was founded in 1903 and is situated at the Balaklava Racecourse.
It is about a 1 hour drive if coming from Adelaide.
The Balaklava Racecourse is a large one, which has many chutes on it as well. There are a number of races which are held at this racecourse which include various lengths ranging from 1000 metres, 1050 metres and 1400 metres lengths.
The Balaklava Racecourse holds a number of races across the year but the most prominent one is the Balaklava Cup which is without any doubt the largest and widely attended race outside Adelaide's metropolitan area.
The Balaklava cup is held on Wednesdays in September annually and attracts crowds well above 13,000. This event holds all industry records for betting turnover, stake money and attendances.
Contact:
BALAKLAVA RACING CLUB
PO Box 273,
Balaklava, SA 5461
Ph. (08) 8862 1503 Racecourse
Fax (08) 8862 1825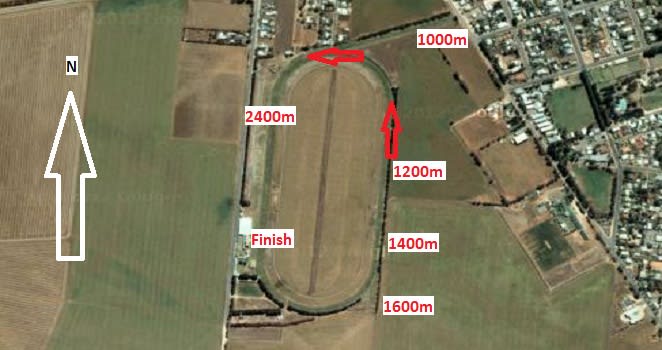 The town of Balaklava is situated on the outskirts of Adelaide and is 90 kilometres away from the urban centre.
The event is seen to be one of the most important horse racing events to be held in the town of Balaklava. The Balaklava Cup is the premier country race meeting.
Balaklava racecourse has a circumference of approximately 2053m and a very long straight being 453 metres long, it is the longest straight in South Australia.
This gives back markers plenty of time to make there way through the field and come home strong.
On Cup day, apart from thousands of people enjoying themselves, you will find plenty of wine, food, fashion, children's rides and entertainment for all race fans and alike.
You won't be disappointed.
Nearby race tracks include Clare Racecourse, Gawler Racecourse and Oakbank Racecourse