The Toowoomba Racecourse is located at Hursley Rd Toowoomba 4350 QLD.
The Toowoomba Racecourse is operated by The Toowoomba Turf Club home of racing on the Darling Downs offers Australia's only regular twilight racing experience for thoroughbreds - and it happens every Saturday.
Clifford Park Racecourse was acquired as a 160-acre block in 1861 and the first meeting on it was conducted by the Darling Downs Jockey Club at the course then known as Drayton and Toowoomba Racecourse on 6 March 1862.
In 1882, Toowoomba Turf Club was formed and conducted its first meetings on 3 & 4 June that year at Toowoomba Racecourse.
The first recorded Toowoomba Cup was run in 1919. In 1992 the club made Australian racing history by staging the first race ever run under electric lights, the Fosters Toowoomba Cup, which was won by Waigani Drive.
On 4 September 1996, the club staged the first ever night race meeting in Australia at Toowoomba Racecourse.
Toowoomba Racecourse hosts 42 Saturday race days over the months of September to June.
Contact:
TOOWOOMBA TURF CLUB
PO Box 6037,
Toowoomba West,
QLD 4350
Ph. (07) 4634 6066
Fax (07) 4633 1256
Poll Fax 1902 941 174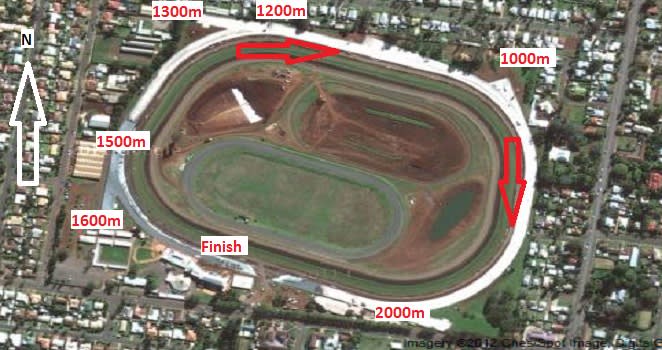 The Toowoomba Racecourse is also known as Clifford Park Racecourse and can be found 130 kms west of Brisbane.
Whatever your fancy, Toowoomba and the Darling Downs has plenty to see and do – from boutique wineries, stylish cafes, galleries, heritage exhibitions and museums to rugged national parks, antique stores, spectacular lookouts, gracious old hotels and stunning gardens.
Racecourse Details:
The Toowoomba racecourse has a track circumference of 1750 metres and a home straight being 360 metres long.
The course is very circular and has tight turns, a big advantage to be on the fence in running. Barrier advantages are of least important at 1300 metres and beyond.
Nearby Racetracks include Ipswich Racecourse, Eagle Farm Racecourse and Doomben Racecourse.