The Sunshine Coast Racecourse is located at 170 Pierce Ave, Meridan Plains, QLD 4551.
The Sunshine Coast Racecourse is located less than an hour north of Brisbane and just minutes from the Sunshine Coast's gorgeous City of Caloundra.
There are races at the Sunshine Coast Racecourse every Sunday and every third Friday as well as our feature race days.
The Sunshine Coast Racecourse is operated by the Sunshine Coast Turf Clubs and is one of the country's finest thoroughbred racing and training facilities. The Sunshine Coast Turf Club conducted its first race meeting in July 1985.
The Sunshine Coast Turf Club hosts four major racing events a year being;
The Sunshine Coast Cup held in January each year
Ladies Oaks Day held on the traditional Caloundra Show holiday
The Caloundra Cup held in June/July as part of the Queensland high profile Winter Carnival
Melbourne Cup Day
The club holds these events along with over 70 other race days per year.
Contact:
SUNSHINE COAST TURF CLUB
PO Box 301,
Caloundra,
QLD 4551
Ph. (07) 5491 6788
Fax (07) 5491 3303
Email: sctc85@one.net.au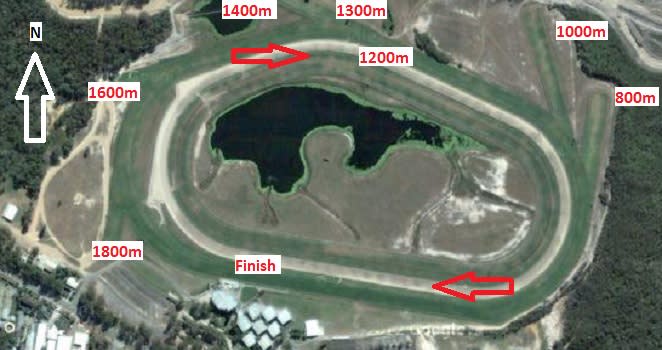 Queensland's Sunshine Coast is a unique and varied destination where fun, nature and relaxation are the key ingredients.
Families, couples, singles and international visitors alike have made the Sunshine Coast their first holiday accommodation choice for years.
Racecourse Details:
There are three race tracks, the grass training track, the cushion track which is 1760 metres with a home straight being 400 metres long and the grass track proper which is 1967 metres with a home straight being 400 metres long.
The Sunshine Coast Racecourse is regarded as one of the best in Australia. The track has long, open angled bends which give back markers a good opportunity to come from behind and win. Barrier draws are of least important at the 1300 and 1400 metre starts.
The club"s cushion racetrack, a $6 million investment, is an example of the importance of the Sunshine Coast Turf Club to the larger picture of racing in Queensland.
The cushion track provides an all-weather racing surface. It has provided a major boost to the Club's capacity and capability to provide high quality training and racing facilities despite the fairly high local rainfall
Nearby Racetracks include Doomben Racecourse, Eagle Farm Racecourse and Ipswich Racecourse.