The Gympie Racecourse is located at Exhibition Rd Gympie QLD.
Gympie Racecourse is only a couple of hours drive north of Brisbane QLD.
The Gympie Racecourse is operated by the Gympie Turf Club and offers patrons a great day out with top line facilities. Membership is $33 pa and runs from 1 Jan to 31 Dec each year.
Membership entitles member and partner to admission to all horse race meetings in the year.
Facilities include:
Bar and Dining Facilities
Tents and Marquees
Canteen
Catering
Grandstand
Bookmakers and Tote service
The Gympie Turf Club hosts numerous meetings annually at the Gympie Racecourse including The Gympie Gold Cup.
Contact:
GYMPIE TURF CLUB
PO Box 632,
Gympie,
QLD 4570
Ph. (07) 5482 1584
Fax (07) 5482 4929
Email: admin@gympieturfclub.com.au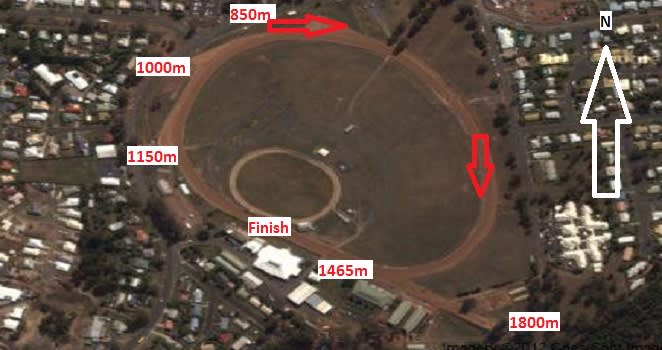 Gympie is a rural city of about 16,000 people in the Mary River Valley, and is 150 km north of central Brisbane. Gympie's leading employment sectors are retail and wholesale, manufacturing, health and community services.
Racecourse Details:
Gympie Racecourse is a dirt track and has a track circumference of 1600 metres and a home straight being 280 metres long.
Track is of circular shape with tight turns. It has race starts from the 850m, 1000m, 1150m, 1465m and 1800m. Inside barriers are an advantage at most starts.
The course has 2 chutes, one at the 1150 metres and the other at the 1800 metres mark.