The Wagga Racecourse is located at the corners of Travers and Moorong Streets Wagga NSW.
The Racecourse is approximately 4.5 hours from both Sydney and Melbourne.
The Wagga Racecourse is operated by the Murrumbidgee Turf Club and the club commenced racing in 1849. In 1993 the Wagga Racecourse was rebuilt including a new Grandstand complete with three function rooms.
The Murrumbidgee Turf Club hosts 24 meetings at the Wagga Racecourse annually including The Wagga Gold Cup which runs on the first Friday of May each year, The Town Plate which is run the day before The Wagga Gold Cup, Caulfield Cup and Melbourne Cup Days, Christmas Eve and Easter Saturday.
Contact:
Wagga Racecourse
PO Box 34,
Wagga,
NSW 2650
Ph. (02) 6926 4242
Fax (02) 6921 7455
Email: mtc@wagga.com.au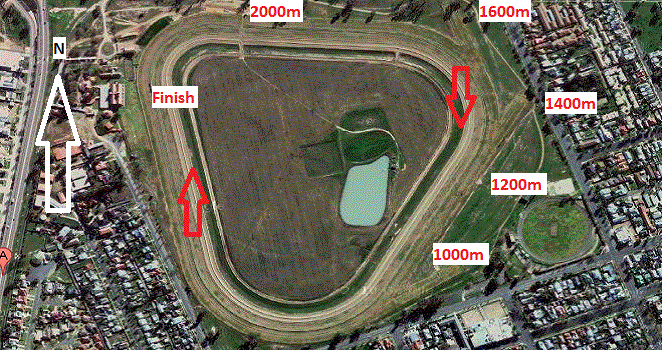 Wagga Cup day, the first Friday in May, is the premier social and racing day on the Riverina calendar and is also they city's key tourist attraction.
Wagga Racecourse Details:
The course has a curved, triangular style layout. Wagga Racecourse has a track circumference of 2200 metres and a home straight being 420 metres long.
At the track there are around 26 registered trainers with over 120 horses in work at any one time.
There are five different tracks, three are used for training purposes, one B track and the course proper.
The course has 3 chutes, 1600 metres, 1400 metres and 1100 metres mark.
Nearby Racetracks include Gundagai Racecourse, Cootamundra Racecourse and Narrandera Racecourse