Queanbeyan Racecourse is located at 42 McCrae Street QUEANBEYAN NSW 2620.
The town is only 15 minutes from Canberra, 10 minutes from the domestic airport and 3.5 hours from Sydney. Population of more than 25,000.
In 1885, land was reserved to the north of the town by the New South Wales (NSW) State government and set aside for the sport of thoroughbred racing The Queanbeyan Racecourse.
Today, the Queanbeyan Racing Club is one of the strongest and most progressive country racing clubs in NSW, holding 25 meetings a year and distributing more than $1,000,000 to thoroughbred owners in prize money.
In 1999-2000, 12 of these meetings held at Queanbeyan Racecourse are "TAB meetings" covered by all of Australia's State and Territory TABs. The Queanbeyan Cup is run in May each year.
On 12 February 2000, The Queanbeyan Racing Club launched its new identity, QRacing, and became the first country racing club in Australia to have its own dedicated Internet site.
Contact:
QUEANBEYAN RACING CLUB
42 McCrae St,
Queanbeyan,
NSW 2620
PO Box 133,
Queanbeyan,
NSW 2620
Ph. (02) 6299 2398
Fax (02) 6299 2589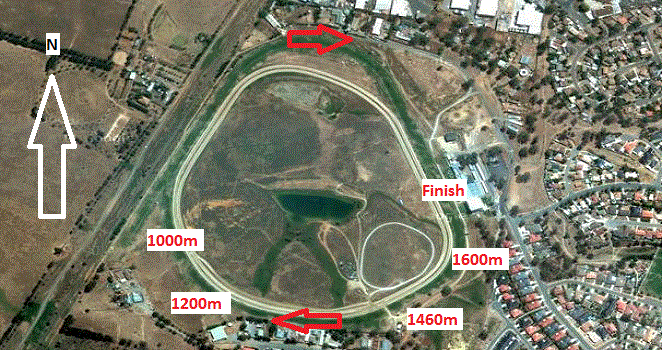 Racing at Queanbeyan in the early 1900s was very much a bush affair and was not always regular.
Since World War II, the Club then grew quickly, helped by the wealth of regional agriculture and population growth in Canberra.
Racecourse Details:
Queanbeyan Racecourse has a track circumference of 1800 metres and a home straight being 350 metres long. The course has 3 chutes, at the 1000 metres, 1200 metres and the 1460 metres mark.
Queanbeyan Racecourse is a circular track with a noticeable rise in the straight from 200 metres to the winning post.
Queanbeyan Racecourse has starts from the 900m, 1000m, 1100m, 1200m, 1460m and 2000m. Inside barriers play an important role at all starts.
Nearby Racecourses include Canberra Racecourse, Goulburn Racecourse and Moruya Racecourse.