Port Macquarie Racecourse is located on the Oxley Highway 3kms from the town centre.
Port Macquarie Race Club is located just 4 hours drive from Sydney on the NSW Mid North Coast.
Facilities at Port Macquarie Racecourse include
1600 metres turf track
1500 metres sand training track
1400 metres grass training track
110 day stalls
2 sand rolls
4 wash bays
Air conditioned rooms - Ivan Livermore Stand, Clydesdale Room, Chairman's Lounge
Race day catering
Free sealed onsite parking for 300 cars and Disabled access and toilet facilities.
Port Macquarie Racecourse is operated by the Port Macquarie Race Club and it hosts approximately 20 race meetings annually.
The annual Port Macquarie Cup Carnival is conducted from late September to early October, with the feature race being the $100,000 Port Macquarie Cup run over 2000 metres.
Contact:
PORT MAQUARIE RACE CLUB
PO Box 194,
Port Maquarie,
NSW 2444
Ph. (02) 6581 1964
Racecourse Fax (02) 6581 0255
Email: info@portmacquarieraceclub.com.au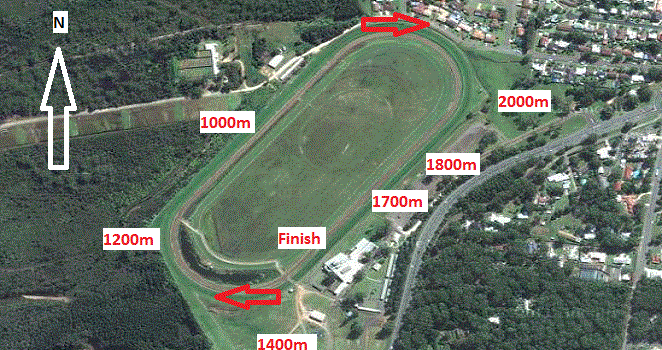 Races have been held at the Port Macquarie Racecourse since the early 1800′s.
Races are conducted over distances of 1000 metres, 1100 metres, 1200 metres, 1400 metres, 1700 metres, 1800 metres and 2000 metres.
Racecourse Details:
The Port Macquarie Racecourse is kikuyu grassed course and has a circumference of 1600 metres, is 18 metres wide and has a home straight of 375 metres long.
The surface rises gradually from the 600 metres to the 200 metres point, and then slopes downwards past the winning post to the turn out of the straight. Racing is conducted over 1000 metres, 1100 metres, 1200 metres, 1400 metres, 1700 metres, 1800 metres & 2000 metres.
There is an advantage to horses with an inside barrier in 1000 metres and 1400m races.
Nearby Racetracks include Kempsey Racecourse, Taree Racecourse and Coffs Harbour Racecourse.