Orange Racecourse is located at Towac Park, Canobolas Rd, Orange, 2800
Located just 3.5 hours west of Sydney and 3 hours north west of Canberra in Central NSW.
Facilities at the Orange Racecourse include Modern grandstand, Undercover betting ring and Tote facilities.Orange Racecourse is also known as the Towac Park Racecourse.
Golden West Race Club host 18 meetings annually including Westruss 3 & 4yo Quality 1400 metres in November and Tooheys Orange Cup 2100 metres in February. The Golden West Race Club also manages the Tyers Park racecourse in Bathurst.
The Orange Cup is run last March / Early April each year and is designed as a family friendly environment with sumptuous fine dining, sensational children's entertainment and cutting edge Fashions on the Field (including a Mini Mogul Category) with over $2000 in prizes!
Contact:
GOLDEN WEST RACE CLUB
PO Box 273,
Orange,
NSW 2800
Ph. (02) 6361 4552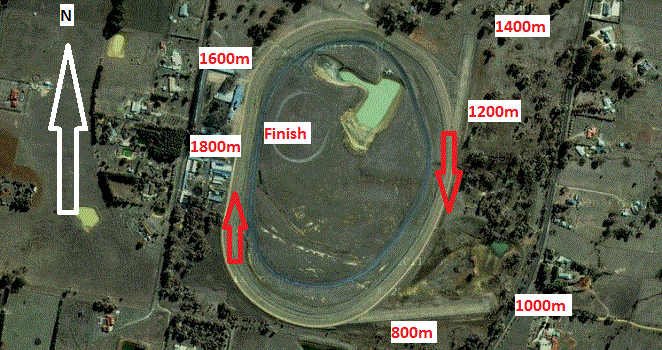 Orange is a great city that has grown from its prosperous mining past. Orange is the home to Australia's first payable gold discovery at Ophir in 1851.
The high light meetings at Orange Racecourse during the year are the Orange Cup and the Orange Picnic Races. The Orange Cup is over a distance of 2100 metres. The Orange Picnic Races is for both punters and all members of the community. A six race race card, race goers are guaranteed of a quality racing spectacle.
Racecourse Details:
Orange Racecourse is now known as a spacious racecourse, with a long straight and a smooth wide turn. Barrier advantages: Of least importance at 1400 metre mark.
Nearby Racetracks include Bathurst Racecourse, Cowra Racecourse and Wellington Racecourse