The Newcastle Racecourse also known as the Broadmeadow Racecourse
The Racecourse is located at Chatham Road, Broadmeadow, 2292.
Newcastle Racecourse, home of the Newcastle Jockey Club, the Broadmeadow Racecourse is the social hub of Newcastle.
Racing 26 Saturdays a year, along with the Autumn and Spring Carnivals and the Sunday Westpac Rescue Helicopter Race day in November.
However, the biggest day at Newcastle Racecourse is the famous Boxing Day Races. Known as Newcastle's biggest party, the Boxing Day Races attracts over 16000 people.With a full race program and multiple live entertainment, it's the ultimate race day.
Group Races held at Newcastle Racecourse are the Newcastle Newmarket Handicap, Cameron Handicap, Newcastle Gold Cup and the Newcastle Spring Stakes.
In the autumn, Newcastle's feature is the Newmarket Handicap, a major lead-up to the Epsom Handicap, which is run in March.
Contact:
NEWCASTLE JOCKEY CLUB
Chatham Road,
Broadmeadow
PO Box 30,
Broadmeadow
NSW 2292
Ph. (02) 4961 1573
Fax (02) 4961 5633
Email: jockey@newcastle.com.au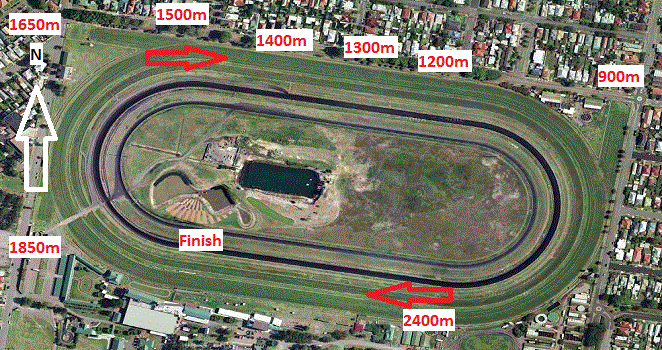 The Newcastle Jockey Club is a great venue to visit. From private lawn marquees to function rooms & lounges with views over Beautiful Broadmeadow.
With beautifully appointed member areas adjacent to the Parade Ring you will enjoy all the spoils of being up close with some of the best horses.
So whether you're looking to be track side for the ultimate racing experience at Newcastle Racecourse, wanting to parade your finest or wanting a premier entertainment venue, you'll enjoy the day at Newcastle Racecourse.
Racecourse Details:
The Newcastle Racecourse has an oval shaped layout, the race track is spacious and flat with a track circumference of 2000 metres. The home straight is 415 metres long.
Nearby Racetracks include Cessnock Racecourse, Wyong Racecourse and Gosford Racecourse.