The Muswellbrook Racecourse is located at Racecourse Road Muswellbrook NSW
The Racecourse is about a 3 hour drive from Sydney.
Muswellbrook Racecourse is operated by the Muswellbrook Race Club and it hosts two Days of Fabulous Racing at one of Australia's best Country Tracks including the MUSWELLBROOK GOLD CUP DAY in November.
Facilities at Muswellbrook Racecourse include
on-course bookies
Bar
Dining
Picnic areas
Gardens
VIP Marquee
TAB.
Contact:
MUSWELLBROOK RACE CLUB
Racecourse Road
Muswellbrook,
NSW 2333
P.O. Box 361,
Muswellbrook
NSW 2333
Ph: (02) 6541 1699
Email: gm@mbrookraceclub.com.au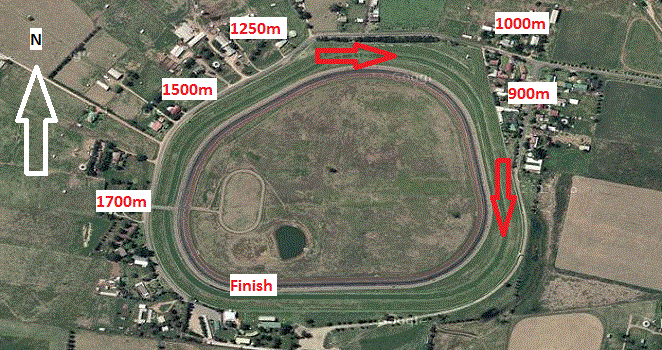 Muswellbrook Racecourse is a very popular country racetrack which has developed a reputation for being one of the best country tracks in Australia.
The Muswellbrook Race Club has an excellent members area which also caters for Weddings, Birthdays, Business Conferences and other functions.
Muswellbrook Racecourse Details:
The Muswellbrook Racecourse is grass covered and has a circumference of 2010 metres and has a slight camber throughout.
It has a home straight 400 metres long and has a very long bend after the winning post. All distances horses have to overcome multiple turns before heading to the home straight. The only exception to this is the 1000 metre race with only one turn. Inside barrier draws are an advantage on all starts.
Nearby Racetracks include Scone Racecourse, Cessnock Racecourse and Newcastle Racecourse