The Mudgee Racecourse is located at Moggs Lane, Bombira, NSW 2850
The town of Mudgee is located north west of Sydney, slightly above Newcastle. It is about a four hour drive from Sydney.
Mudgee Race Club operates the Mudgee Race Course and is one of the premier country race tracks.
The Major event on the calendar at Mudgee Racecourse is the Mudgee Cup run in December each year.
The course is a popular venue for social and work groups to get together in their own personal marquee.
Contact:
MUDGEE RACE CLUB
Cassilis Road,
Mudgee,
NSW 2850
P.O. Box 229,
Mudgee, 2850
Ph (02)6372 6035
Fax (02)6372 3491
Email: colleen@hwy.com.au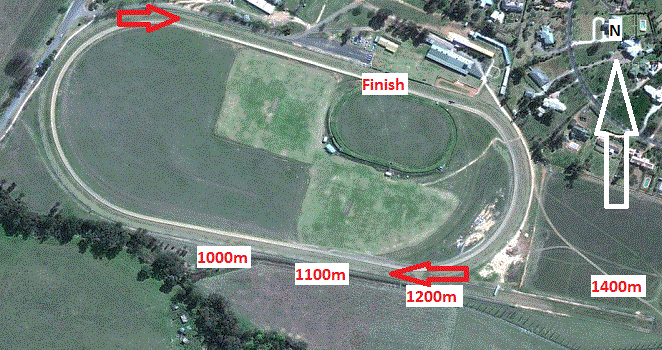 Mudgee is a town famous for its wines, there is about 50 wineries in the area, some operating since the 1850s.
Go touring around the wineries, many in picturesque locations by the Cudgegong River.
Mudgee Racecourse Details:
The Mudgee Racecourse is a hook shaped with a run down to the turn at the bottom and then up the home straight. There are starts from the 1000 metres, 1100 metres, 1200 metres and the 1400 metres.
The track circumference is 1800 metres and has a home straight of 450 metres long. Mudgee Racecourse has tight turns, with the fairest start from the 1400 metres chute.
Nearby Racetracks include Wellington Racecourse, Bathurst Racecourse and Orange Racecourse