The Moruya Racecourse is located at Donnely Drive, Moruya, 2537 NSW
Moruya is 300km (3 hours) south of Sydney and 180km (2 hours) east of Canberra.
Racing started in Moruya aprox. in 1870. For quite a few years racing was conducted at the "old" Moruya Racetrack virtually in the centre of town where the Golf Course and show ground are now situated
Moruya Racecourse is operated by the Moruya Jockey Club Ltd and it hosts 13 meetings annually including Moruya Cup, Batemans Cup, Narooma Cup, Mogo Cup and the Greased Lightning 2yo.
In 1986 it moved from the old track at Moruya Showground to its current position.
Contact:
MORUYA JOCKEY CLUB LTD
PO Box 148,
Moruya,
NSW 2537
Ph. (02) 4474 4409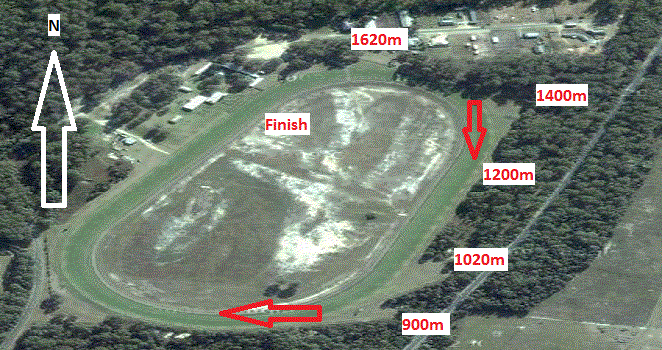 The Moruya Racecourse is a fantastic country racecourse with plenty of grassed areas for enjoyment.
The Race Club allows small marquees to be set up for groups. There are TAB and Bookmakers on course for all meetings.
Racecourse Details:
The current racecourse was opened in 1985. It is an excellent all weather racetrack being on a sand base with a bore watering system.
The sand base provides a cushioned surface which is gentle on the horses legs
Nearby Racetracks include Sapphire Coast Racecourse, Queanbeyan Racecourse and Nowra Racecourse.