The Lismore Racecourse is located at Woodlawn Road, Lismore NSW
The Lismore Racecourse is operated by Lismore Turf Club and it holds numerous race days throughout the year.
The earliest records available say there was racing in Lismore as early as 1874 when a 2 day spring carnival was held. The Australasian Turf Register has official records with races being run in Lismore from 1885/6.
The biggest and brightest of these is the XXXX Gold Lismore Cup which is part of the Lismore Turf Club's Spring Racing Carnival. The first reference to the Lismore Cup is an article in the Northern Star referring to the Lismore Cup Race Meeting held on Wednesday 30 September 1908.
On the Sunday prior to the Lismore Cup race, the Lismore Turf Club hosts the Rousillon Handicap. The race is named after the champion racehorse Rousillon who raced from 2yrs to 12 yrs, starting 163 times for 45 wins and 53 placings. Rousillon won 17 times in Lismore (2 Lismore Cups in 1971 and 1972) and 10 times in Ballina (1 Ballina Cup - 1965).
The Lismore Turf Club is a fully functional Racing Course, with many events being held during the year. Although the Lismore Racecourse being primarily used for racing purposes, the Club often offers other forms of entertainment such as Dance Parties.
In 2001 the Australian Turf Club sold the racecourse to the Lismore Turf Club; The Lismore racecourse is one of only a handful of racecourses in Australia which is owned and operated by the actual Turf Club itself.
Contact:
LISMORE TURF CLUB
PO Box 628
Lismore,
NSW 2480
Ph. (02) 6621 3176
Fax (02) 6622 1308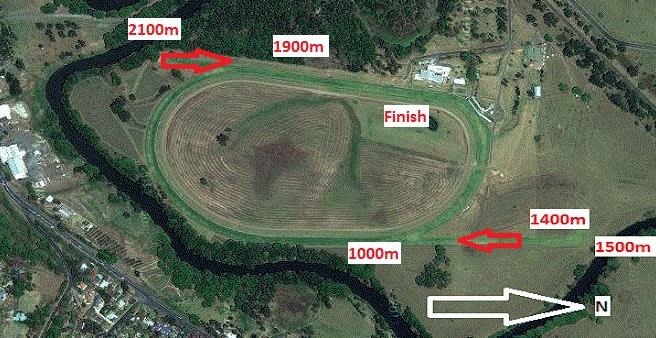 Lismore Racecourse, is the premier racing venue on the Far North Coast of New South Wales.
The Turf Club is also one of Lismore's best entertainment, venue hire and function centres catering for all types of events.
Membership of the Lismore Turf Club is available to all patrons, upon the recommendation of a current Club Member.
Lismore Racecourse details:
The track can run races up to the distance of 2100 metres, being a complete revolution of the course being completed to cover the distance. The course has a track circumference of approx 1730 metres and has a total of two chutes.
The winning post is in an excellent position for patrons viewing. There is also a very good view from from the Grandstand. A completely parallel, raised view of the Winning Post can be seen from the Members stand.
Nearby Racetracks include Casino Racecourse, Ballina Racecourse and Murwillumbah Racecourse.