Kembla Grange Racecourse is Located along the Princes Highway, Kembla Grange
They are on the foothills of the Illawarra Escarpment and situated 95km from Sydney and 9km south of Wollongong.
This Kembla Grange Racecourse being NSW's premier Racecourse south of Sydney, Kembla Grange Racecourse is also a fantastic fully licensed Function Centre.
Numerous organisations have exercised the management and control of racing at Kembla Grange until 1976 when the present Illawarra Turf Club was formed and conducted its first race meeting on the 18th December 1976.
The Kembla Grange Racecourse is operated by the Illawarra Turf Club and it conducts on average 30 race days a year. Generally 26 are on Saturdays and the remaining 4 are held during the week.
Contact:
ILLAWARRA TURF CLUB LTD
Kembla Grange Racecourse
PO Box 9,
Dapto, NSW 2530
Ph. (02) 4261 7211
Fax (02) 4261 1665
Email: racing@illawarraturf.net.au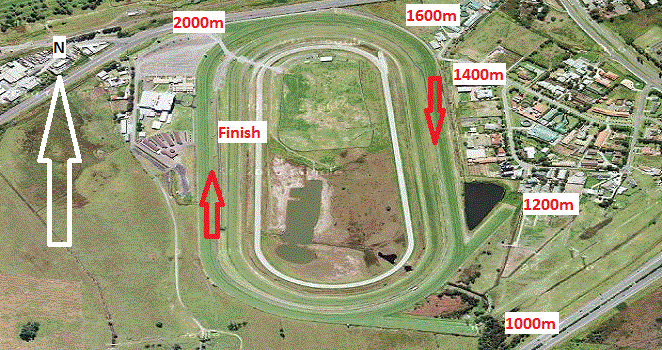 Records reveal that race meetings were conducted by the original Illawarra Turf Club as far back as 1834, 26 years before racing began at Royal Randwick. This site is where the present day Wollongong Golf Course is.
The Keith Nolan Classic for three-year-old fillies is the Main race meeting at Kembla Grange. This race is run on "Sensational Sunday" in late March.
Kembla Grange Racecourse Details:
Kembla Grange Racecourse was constructed identical in size and shape to Randwick Racecourse. The course is 2200m in circumference, 25m in width and has a straight length of 420m, suiting horses that run on strongly. The track is one of the best shaped racetracks in Australia in which every horse is given its chance due to the long straight.
The Club was given a full TAB service in 1984 in which it spent over $10 million on course improvements, including new stables, modern grandstand and associated reception facilities.
Nearby Racetracks include Nowra Racecourse, Warwick Farm Racecourse and Canterbury Racecourse.