WinnersBet is a newer bookmaker that started in June of 2020. The bookie is headquartered in Melbourne and accepts wagers on behalf of a person who goes by the name of Da He, an industry veteran with experience gained from working for Sportsbet and Bet365. He is also a member of the Victorian Bookmakers Association. Join WinnersBet
WinnersBet Pros
Australian owned
Simple and intuitive wagering platform
Thorough coverage of domestic and international gallops
Interesting assortment of promotions
Assortment of instant deposit methods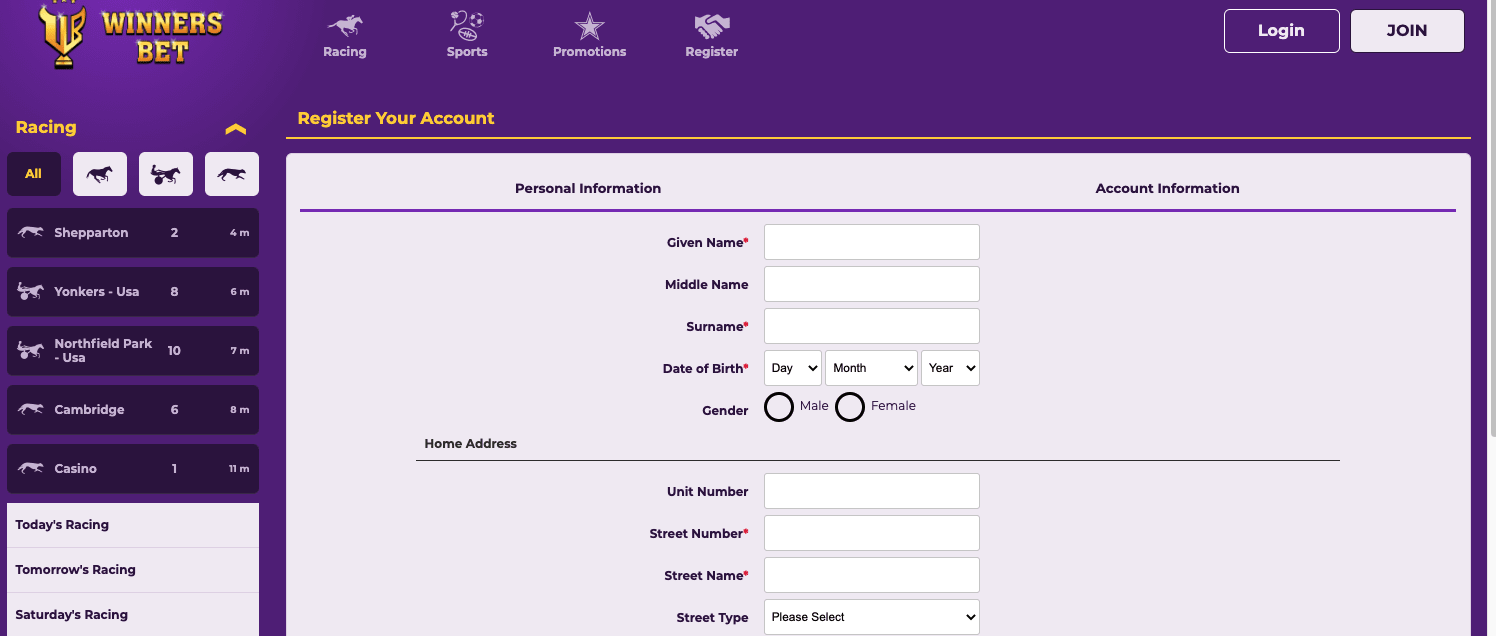 WinnersBet Wagering Platform
The WinnersBet wagering platform lived up to our expectations. It is a design that most Aussie online punters will recognise immediately. It uses the standard three-column layout that makes using a new bookie feel familiar. Punters new to online wagering will find the wagering interface simple and intuitive.
WinnersBet has gone to some effort to set up their wagering platform so that it is easy to find racing and sports markets without putting excessive strain on anyone's eyes.
Most of the pages have a purple background, which seems a little garish at first glance, but it is not a horrible purple, and once we got into the odds and the markets, we forgot about the purple.
The left third of the screen shows the various categories of racing and sport. WinnersBet seems to be focused on racing above sports and since we operate a racing website, we enjoyed this aspect of the layout. We also appreciated the ability to expand or contract what we saw in the left column, meaning that a racing punter does not have to scroll through sports offerings to find racing markets.
They use a nice combination of a darker purple combined with highly visible white text. Further down, the darker purple is used for text on a white background to show a contrast that is easy on the eyes.
Every page we visited loaded instantly, so there was no wondering if a command had been properly set to the WinnersBet server.
What impressed us most was that the pages are simple and uncluttered.
The headers of the main pages feature the bookie's logo in the top left corner. The rest of the top panel features white icons for Racing, Sports, Promotions and Registering. On the right, icons for logging in and joining complete this section.
Just below, from left to right, are icons for filtering races according to code, that is, gallops, trots and dogs. Next comes icons for results from the day, the prior day, tomorrow, etc.
A centre column displays all the racecourses, with domestic tracks located above international tracks. When we clicked on the icon to show us the Saturday racing, the list of tracks expanded and we had instant access to the racing, beginning with the metro tracks down through the country courses.
As soon as a race at one of the tracks is selected, a page opens that shows the name of the race, the distance, the start time and the time remaining until the jump.
This is where the various bet types that WinnersBet supports appear.
Win/Place is the default. Right alongside that icon are icons for Quinella, Exacta, Trifecta, First Four and Quadrella markets.
Right above the names of the gallopers is an icon for the WinnersBet form guide. Clicking on it opens a window with the competing Thoroughbreds.
We clicked the favourite for a race at Morphettville to learn earnings, results from the last six starts, ancestry, career results and results based on track conditions.
It is the easiest-to-use form guide we have encountered in over a decade at reviewing online bookmakers. This alone would suggest to us that a membership with WinnersBet would be worthwhile.
We had to adjust to the orange at Neds, so unless someone really hates purple, the colour scheme of WinnersBet was inconsequential.
At the moment of this writing, WinnersBet did not offer operating specific apps for Android and Apple devices, but there is a mobile version of the website that functions quite well and we have often preferred this to dedicated apps. Whether you access the internet through an Android or the Apple browser, it is quite easy and it duplicates the website experience except for the smaller screen adaptations Winners Bet has made.
As of mid-2021, WinnersBet had been in operation for about a year without offering a device specific wagering app and we admit that we expected them to have apps by now. Other bookies, though, have taken some time to establish a market share before deploying mobile apps, so WinnersBet not having one is not a concern for us. Join WinnersBet

WinnersBet Promotions
With the expertise of industry veterans at the helm of WinnersBet, we expected solid promotions and we are pleased to report that this bookie knows the importance of promotions to punters.
Promotions help to engage punters on the website, which keeps them returning to check in on what is happening in the wagering markets and especially what is going on with WinnersBet.
WinnersBet bills themselves as no fuss wagering and the promotion we saw on the website that seems to fill this bill.
Most bookies offer horseracing markets that protect clients from the necessity of shopping bookies for the best racing quotes. With WinnersBet, these include a Best Tote promotion for WinnersBet horseracing markets. Best Tote applies to all Australian gallops, unlike others we have seen that only offer Best Tote on a limited number of bookmaker nominated races.
Here is an example of Best Tote in action.
A recent race in South Australia found the winner jumping for an $8.50 starting price, but the NSW tote priced the galloper at $9. Queensland quoted the horse at $9.40, while the Victorian tote offered $9.20.
Had a punter backed the winner, let's say for $9, Tope Tote would have paid $9.40.
The other common racing promotion that WinnersBet offers is the Protest Payout. These are not exactly occurring on a frequent basis, but it is mentally reassuring to punters who have done the work and correctly found the form for a race to know that a good punt will not be negated due to a protest that rearranges the finishing order for a race.
WinnersBet clients with a valid membership will find the WinnersBet promotions prominently positioned at the very top of the page.
The other promotion we saw was a Daily Odds Boost that could be applied to all three racing codes.
There were no sports promotions.
This might change for a major sports event, but the consensus on this bookie is that they are focused on racing, with emphasis on the gallops.
This approach might be better for the bookie than it is for the punter, the sports punter at least. This is completely logical for a bookie, as picking a winning galloper or setting up a racing punt that covers more than a simple win/place is challenging for most punters, even some who are very dedicated to Thoroughbred racing. Compared to a fixed win sports bet, a racing bet has much longer odds, as most races will have at least six runners, while a sports match typically offers only two outcomes. Join WinnersBet
WinnersBet Racing Odds
Having had the experience of a Thoroughbred racing market shifting in the small amount of time it requires to switch from one bookmaker to another, especially when the jump is close, we would urge anyone looking for a value bet to do a little shopping.
Here is the comparison between Ladbrokes and WinnersBet.
For an upcoming race on Randwick's all-weather Kensington surface, WinnersBet had the favourite at $3. Ladbrokes did not have a market for the Wednesday meeting, so big edge to WinnersBet simply for offering the race. This was our discovery when we were looking at markets just over 24 hours in the future.
Bet365, like Ladbrokes, did not have any markets posted for Randwick Kensington. Right off, we can see that WinnersBet has a decided edge just by having more racing markets than Ladbrokes or Bet365.
Almost from a sense of desperation, we went to Sportsbet. They had the mid-week meeting posted. Their quote had the favourite for $3.10-slight edge to Sportsbet, but once again, the nifty WinnersBet form guide had us leaning in their direction, although we admit that we could use WinnersBet form to select with Sportsbet, something every punter does.
We switched courses and had a look at Ballarat, where we found a race favourite for $4.60, while with Sportsbet, the galloper was quoted for $6. Join WinnersBet
WinnersBet Sports Markets and Odds
We observed 11 sports on offer, fewer than most bookies. We clicked on footy and all we saw for AFL markets was head-to-head and line betting. This is fine for many punters, but those who look at exotic prop bets for value in markets such as first goal scorer or quarter and half markets will need to look elsewhere.
Our brief examination of WinnersBet sports odds for the AFL revealed that while they are not yet ready to take on Ladbrokes, WinnersBet was not all that bad. They had Brisbane for $1.37, while Ladbrokes was offering $1.40. WinnersBet had the Lions' opponent, Richmond Tigers, for $2.90, with Ladbrokes quoting the Tigers for $3.
We found similar variances for other upcoming AFL fixtures. The only significant disparity in prices we observed was that for the match between Geelong and Gold Coast, WinnersBet was offering Suns backers $8.30, while Ladbrokes was quoting $9.25.
That said, Ladbrokes (or WinnersBet for that matter) could offer the Suns for $41 and it still would not be a good punt.
We do not know at this time if WinnersBet will expand its sports and its markets per fixture, but it would seem that they would have to expand in order to compete with the likes of Sportsbet, Ladbrokes, Bet365 or any of the larger domestic or international agencies.
It might be tempting to reach the conclusion that WinnersBet odds are not competitive, but our random and unscientific approach led us to the discovery that WinnersBet is the best source for racing form and results, things that some bookies treat as afterthoughts.
Include the fact that WinnersBet will pay Best Tote and it becomes obvious that pre-race quotes are not completely indicative of the whole picture. Join WinnersBet

WinnersBet Customer Service and Support
WinnersBet currently does not have a phone contact number, which rules out live betting. The chat option is certainly the one that many punters rely upon these days. WinnersBet has quick response time to chat requests, but at this time, chat is limited to regular business hours.
The other support options are email and the FAQ page.
WinnersBet Deposit and Withdrawal
WinnersBet accepts funding deposit through Visa, MasterCard and POLi. There are no fees associated with deposits into WinnersBet. Electronic Funds Transfer (EFT) is the only withdrawal option beyond having winnings credited to a funding credit card.
Conclusion
In our years of examining bookies, we have encountered scenarios very similar to those we found at WinnersBet.
If we were to have a membership with them, it would be for race betting only, but the website and the mobile version are as good as any we have seen.
As WinnersBet grows, we fully expect to see markets added, although they already have enough racing bet types and markets to serve the purposes of the great majority of race punters.
Our opinion is that WinnersBet is worth following and worth funding a membership for punters interested solely on racing, Thoroughbreds in particular and this agency will appeal to many Aussie punters who prefer doing business with an Australian company. Join WinnersBet