One of the Melbourne rails bookmakers who has embraced the shift from on course to online bookmaking is Rod Cleary.
Rod Cleary still fields on course, but it became obvious to Cleary, and to everyone else, that rails bookmakers were a diminishing breed, something that would have been perfectly obvious from seeing a punter look at the rails quotes and compare those quotes to what was displayed on the screen of their smart phone.

Brief History of Rod Cleary Bookmaker
Rod Cleary obtained his first bookie license in 1992 and bought a spot from a retiring bookie in 1999.
He saw the online shift coming as his volume of cash tickets plunged over the years from thousands per meeting to just a few hundred on a good day.
The final indicator Cleary required was to field nine meetings at Flemington on Lightning Stakes day and only have 65 cash tickets.
Vicbet.com Goes Live
Rod Cleary started his online wagering in 2005, when only sports were legal for online punting. He gave the sports portion of his operation away in 2008 in exchange for the simpler life of a racing bookie.
His recollection of the period is that between 2008 and 2012, 95 percent of his volume was on course, with the remaining five percent being booked online.
After 2012, those figures flipped completely, so Cleary was obviously one bookmaker who made the transition without an over-indulgence of sentiment for the good old days.
Cleary acknowledges that on course betting will never make a big comeback, but his opinion is that admission to the metro tracks should be free, the gates should open far in advance of the first race and that the betting rings at Flemington and Moonee Valley need to be moved in a manner similar to Caulfield, where the ring is closer to the track.
His view is that even if all the betting is done online, attendance at the meetings could be higher if the TAB would lower rates for punters betting at the track.
Even those measures, Cleary says, would not bring on course betting back from the dead.
Vicbet Online Impressions
For punters accustomed to a barrage of information for sports and racing when visiting one of the corporate bookies, Vicbet.com is refreshingly simple.
If we could in any way knock the site, it would be that about 50 percent of our screens are simply white borders on both sides. The rest of the design is very similar to what works, which is the three-column arrangement. The difference is that the left column of Vicbet is racing only, with links for the racing of the day, tomorrow's, etc.
Other links direct punters to Group races, Feature Races and Results.
The centre of the Vicbet screen is for the quotes. Our most recent visit to the site included some special bets types, including quotes for Head to Head between three horses at Rockhampton, with a similar market for three of the other horses in that same race.
Cleary also offers the popular Favourite Versus Field.
The website updates dynamically as races come and go. The bottom of the right panel displays the time of the next race to jump. This panel changes to the bet slip when a runner is selected. The bet slip does not include a dividend calculator, so it might be a case of roughing it for those punters accustomed to seeing the calculation done for them. The only luxury of the Vicbet bet slip is that it has some pre-determined wagering amounts ranging from fifty cents to $100.
The Thoroughbred race offerings can be sorted by number, dividend and name, something dedicated racing punters will find handy.
Alongside the tab for sorting the races is a tab to the Vicbet mobile site. This was slightly unusual, but we liked it. We also liked the tabs for live listening and live streaming. Clicking on either of those will take you away from the Vicbet site, but they open new browser windows, so it is a simple matter to get back to the site.
Going in, we had reached the conclusion that an online bookie with racing only would hold little appeal for us, but we flipped to the point that we wish there were a bookie that only took AFL or NRL punts.
Vicbet Bet Types
Vicbet does a good job explaining these for those who are newer and want to learn how to fill out a bet slip beyond Fixed Win or Place bets.
This bookie offers Top Fluctuation, Best Tote Odds, Fixed Price, Best of Best, Middle Tote, Top Fluc Place Betting, Favourite versus Field, Head to Head and all the Exotics.
Vicbet Odds
Many punters gain a sense of accomplishment from finding the best price for any given race. We seldom see a big difference from one bookie to the next and Vicbet is no exception.
We randomly checked the prices on Vicbet with some of the corporates and found quite a few races that had identical prices, as we have come to expect.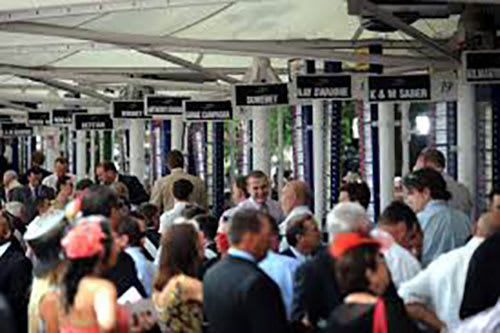 Vicbet Banking
Vicbet accepts direct deposits to it accounts. Credit cards, of course, along with POLi. It is possible to call Vicbet on the phone and make a deposit with credit and debit cards. They will still accept a paper cheque via the mail.
Withdrawals can be made by EFT, paper cheque, credit returned to a funding credit card and Cash withdrawal at the track.
There are no dormant account fees or administrative fees of any kind and accounts can be funded for as little as a dollar.
Conclusion
In a world of corporate bookmakers, Vicbet stands out as much for what it does not offer as it does for what it does offer. We think that betting with a rails bookmaker who has spent over two decades building a clientele is well worth the inconvenience of using another bookie for sports bets.
Vicbet is small enough to service the niche of on course bookmaking, yet experienced enough to provide assurance of fair dealing.
Rod Cleary can be contacted...
Phone: 1300 126126
Mobile: 0412 126126
Oncourse: 03 92140011
Email: rod@vicbet.com