The online offering from O'Shea is called TexBet and it launched in early 2020.
This review will examine how TexBet stacks up compared to other Australian online bookies, with primary attention on the criteria we consider critical for anyone mulling the choice of online bookies.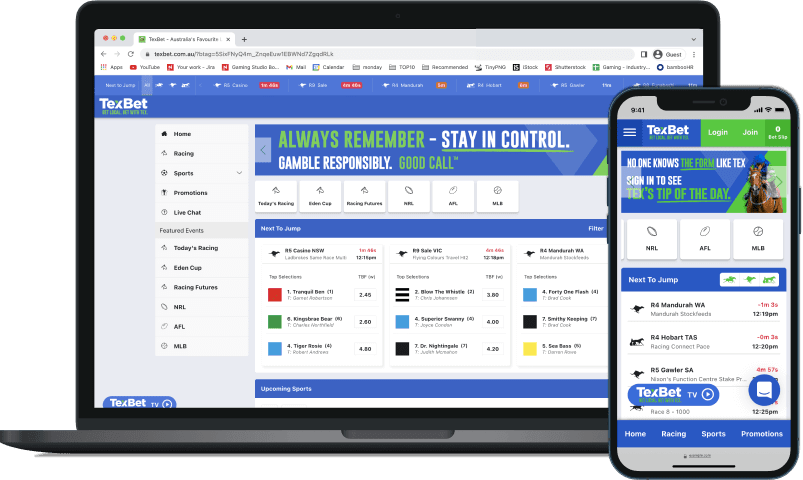 TexBet - Australia's Favourite Local Bookmaker
Popular For
Australian Owned & Operated
Watch Live Racing On Site
Daily & Seasonal Promotions On Offer
18+ T&Cs and wagering requirements apply
---
Excellent range of sports and racing markets
Live streaming of racing through TexBet Website
Racing markets for domestic and international venues
Competitive odds across all codes
Plenty of exotic race betting markets
Australian owned
---
Fewer sub-markets for individual sporting events
Fewer funding and withdrawal methods compared to other bookies
Does not offer in-play betting or telephone betting
TexBet Odds, Markets, Product Line and Bet Types
Everyone wants great odds. Everyone wants great prices. None of us goes out to punt, shop or buy things online hoping we will have to pay more than anyone else does.
The good news for punters is that with the level of competition that is the reality of online wagering in Australia, huge disparities in odds quotes are non-existent. One source lists almost 100 online bookies for Australian punters, although with the way the industry shifts, there could be more or fewer choices on any given day. Imagine the deals we could get if we had that many choices of mobile phone providers.
In the decade or more over which we have compared bookies, we seldom see much variation in the odds quotes we find. We do not recall one single instance of finding as much as five cents difference between the quotes of the online bookmakers for any popular market.
Are TexBet's odds any good? Yes, they are. They have to be. There is no other option. Well, there is the option of shuttering the business or selling it, but those are options of last resort in the event that profitability cannot be achieved.
Just to demonstrate that fierce competition for online punters is real, here is a quick odds comparison.
First, we selected an AFL fixture that was set to bounce in less than 24 hours.
TexBet had the favourites quoted at $1.84 and the unders at $1.94.
A big international bookie we checked had the favourites at $1.90 and the unders at $1.91. This is a fairly typical discovery when we compare quotes between bookies – the favourite has a better price with the bigger bookie, while the under has a better price with the smaller bookie.
Would we tell you to back the favourites with the bigger bookie and the unders with the smaller bookie? We have no desire to make things complicated for any punter.
We checked one other bookie, one of the bigger domestics, and found quotes of $1.90 for the favourite and $1.91 for the under.
Compared to the other two, TexBet has slightly lower quotes on the favourite and higher quotes on the under.
The differences, based on this short comparison of a sports fixture, were not significant enough to compel us to send punters to another bookie for the odds criterion alone.
Also, TexBet is more of a racing punter's agency. Being established by a rails bookie would make that fairly obvious, so we decided to have a look at the quotes for an upcoming race. In this instance, we found TexBet closer to the bigger bookies we used for comparison. That is because TexBet dispenses with the prices and instead offer to pay Top and Mid Tote for racing, so racing punters know they are being treated fairly and getting Top and Mid Tote is about as fair as it gets, something that online bookies of all sizes offer to racing punters.
Closer to a race, about 26 hours before a Group 3 race at Caulfield, TexBet finally had replaced their Top and Mid Tote quotes with actual prices. The favourite for the race was quoted at $2.90 with TexBet. The bigger bookies we used for comparative purposes both had the favourite for $3.00. Punters should decide for themselves if the extra 10 cents the bigger bookies were offering is sufficient reason to punt with those bookies.
Our conclusion regarding TexBet's odds is that they have improved from when they first went online and will in all probability, if they follow a similar arc to that of other new bookies that have come along, TexBet's odds will continue to edge closer and closer to the odds of the bigger players.
TexBet Markets
This is one area where TexBet lags many of the other online bookies.
We ourselves often ask why anyone would need hundreds of markets per sports fixture. The easy answer is that if no one wanted that many, the bookies would not offer so many.
All the same, returning to our above example for the soon-to-bounce footy fixture, TexBet had just nine markets for the match, whereas the other two bookies we used for this comparison were offering 194 markets each.
That figure will grow as TexBet gains market share and develops more sports offerings, but you would expect that growth in AFL markets if anyplace, and the three matches at the end of the fixture had only one market – Match Result. Years of examining bookie operations have demonstrated that as bookies gain market share and survive, the number of individual markets within a fixture increases – without fail.
TexBet Products
TexBet offer all the racing products anyone could need.
We mentioned Top and Mid Tote racing products earlier.
Another great product is TexBet TV. It is not even necessary to have a TexBet login in order to watch live racing. This product is accessed by clicking an icon at the bottom left of the desktop wagering platform or in the mobile version and the dedicated mobile wagering apps for Android and iOS devices. The video player opens on the bottom half of the screen and can be closed when you want the entire screen back for punting.
We observed that TexBet live streaming had a sharper picture than some of the other bookies we have seen and others have confirmed our observation. Even a greyhound race we watched was nearly as clear as we would expect of a 4K TV.
TexBet has a Speed Map and Form Guide that racing punters, especially those taking on the gallopers, will find very informative and valuable. The format TexBet uses is very well designed – one of the best we have seen. There is also a form guide than can be accessed simply by selecting a runner, where all relevant statistics and recent results will supply worthwhile assistance to racing punters.
TexBet Bet Types
TexBet has all the racing and sports bet types punters have learned to expect after more than 20 years of encounters with Australian online bookmakers.
It may be tougher for the newer bookies such as TexBet, but racing punters need all the bet types to help offset the reality of race punting, which is that, unlike sports matches with binary outcomes, any of the gallopers in the race could win.
In accordance, TexBet has these racing bet types.
The main bet types for Thoroughbred racing are Win/Place, Quinella, Exacta, Trifecta and First Four. Under the win category, we saw quotes for Fixed Win, Fixed Place, Top Win and Mid Place.
We will not explain here how those bets work. There are countless online guides that explain the different bet types in far greater detail than we can devote here. We have an excellent guide on our website, but for the final say, even though we groan when we say, think or write this, punters should always refer to the rules for each bookie that each bookie posts under their Terms & Conditions.
As for sports bet types, we have already mentioned that TexBet will have more as they grow and start offering the more exotic sports punts, such as first goal kicker, first try scorer, quarter and half scores and all those other delightful sports exotics.
Our conclusion for TexBet bet types is that this bookie is a work in progress and anyone who wants a ringside seat in order to watch that progress should get a TexBet login and watch.
TexBet Promotions
TexBet offers a variety of promotions. These change often and do require a TexBet login to see exactly what is on offer at any given time. We should mention here that the Australian authorities banished sign-up bonuses in 2018.
TexBet racing promotions will in many ways mimic the racing promotions of the other bookies for one simple reason. Popular promotions tend to stick around. Most bookies, including TexBet, offer the popular protest payout, where punters whose selection crossed first but was relegated due to an upheld protest, still are paid as though their galloper was the winner in the final result.
Our conclusion regarding TexBet promotions is that they are more adequate now than when TexBet first launched two years ago and will continue to expand to satisfy the market. We ourselves do not place high importance on promotions when we select a bookie, but many punters over the years have mentioned that the whole point of getting a TexBet login was to see what TexBet promotions were on offer.
Our Experience with TexBet
Almost every Australian online bookmaker uses an industry standard three-column layout, with the menu on the left, odds quotes in the centre column and the bet slip on the right.
Two nice modifications TexBet has provided are the icon for TexBet TV at the bottom left and the icon for chat on the bottom right.
We appreciate the layout TexBet uses because it is a simple matter to jump between bookies without devoting a lot of attention to the layout of the various pages.
In general, the TexBet website is true pleasure.
It uses a simple colour scheme comprised of bold black text on a white or light grey background. The only other colour is some green that is used to highlight things such as the day of the week for racing markets, or the login and join icons.
The desktop webpage allows for plenty of white space between any text, so it is never necessary to squint at the page and hope you click when your cursor is in the right spot.
A nice feature is a ticker at the very top of the pages that show Next to Jump for all the racing codes combined, or those codes can be filtered by gallopers, trotters and dogs.
The next section below the ticker is a simple blue background with the TexBet logo and motto on the left and the tab for logging in or joining TexBet.
The home page has one of those annoying scrolling banners, but it thankfully goes away once a menu selection is made. Under the link for the TexBet Home Page in the left column is a link for Racing, followed by a link for sports. There is a drop down in the menu for Sports A to Z that can be closed if desired. TexBet does not offer as many sports markets as some of the other bookies display, but the list is longer now than it was when TexBet first went live and we have every reason to expect future growth in the number of TexBet supported sports codes.
Below the TexBet logo are icons for various popular betting codes, such as Today's Racing, followed by important races, and then by Racing Futures and the most popular sports codes.
We place quite a bit of emphasis on websites, both desktop and mobile, and Android and iOS apps and we have to admit that if this criterion alone determined an online bookie for us, it could well be TexBet. Others may prefer websites with more glitz, but most will agree that when it comes to lodging a bet, fewer distractions are better than additional distractions.
The site is simple, fast, intuitive and effective, easy on the eyes and it supplies the information we want without a lot of superfluous noise.
The mobile version of the website closely duplicates the desktop version, with allowances for the smaller screen size that seem well-thought out and thoroughly tested. We are advocates of doing the form on our big monitors and using our mobiles to keep tabs on things. TexBet fits that purpose precisely.
TexBet mobile apps are equally effective. They did not have mobile apps when they first launched, but they took the time to get their apps right and many punters of our acquaintance remarked that the apps, when first released, appeared as well developed as those of bookies that have been promoting their online wagering apps for many years.
The primary difference between the main wagering site, the mobile version and the apps are that clicking is replaced by tapping. Naturally, there is more scrolling involved, but that is the smaller screen size more than anything else. TexBet displays a wealth of information on a webpage – no way all that info could be crammed onto a mobile phone screen.
The TexBet website looks good to us, so good that it is easy to forget that this bookie has only been at it for a couple of years, which leads us to conclude that TexBet would be a great choice for any punter that goes to the effort to acquire a TexBet login.

TexBet Sign Up Instructions
Considering the number and nature of the regulations with which online bookies have to deal, signing up for a TexBet membership is remarkably easy. It is pretty much a self-guided, intuitive process. Here are the basic steps necessary to get a TexBet login.
Direct a browser to TexBet

Click "Join" in the green box at the top right of the page

Supply a valid email address to be associated with a TexBet account

Pick a password, username, supply a mobile number and a date of birth

Provide your legal name and address

Make a deposit or set a deposit limit if desired

Verify identity within two weeks or the account will be suspended

Agree to the information supplied to TexBet as being true

Click Submit
All of this can be accomplished in a matter of minutes, even by those signing up for their very first online bookie account.
TexBet Betting Instructions
Lodging a wager with TexBet is easier than the super-easy joining steps.
Here are instructions for placing a racing wager on the Group 3 Sir John Monash Stakes at Caulfield.
Login in to a funded and verified TexBet wagering account

Click the race icon for the eighth race of the meeting. If you did not know that the Monash Stakes was the eighth race of the meeting, don't worry. Once you have opened the markets for a race, you can easily switch races thanks to TexBet's thoughtfully designed racing pages.

Alternatively, with a major race so close to the jump, TexBet has provided a labelled icon for the race at the top of the page, just below the TexBet logo.

Study the form guide and the speed map if you want to study them.

Select a galloper and decide which bet type to use, such as Fixed Win, Fixed Place, Top Tote, Mid Tote, etcetera.

Choose one of the wager amounts TexBet supplies or enter your own amount. A Possible Payout box is filled in automatically.

Submit the bet or add more selections to the bet slip to create a multi.
TexBet Deposit Methods
Once again, the fact that TexBet is newer means that there are fewer deposit methods than are offered by bigger, older bookies.
TexBet has all the bases covered, though, enough that anyone who cannot find a way to fund a TexBet account should probably not be engaged in online punting.
TexBet accept Visa, MasterCard, POLi and Bank Transfer. The Terms and Conditions section of the TexBet website indicate that accounts can be funded by cheque and also cash by anyone who wants to make a cash deposit to TexBet's account for further benefit to the desired wagering account.
TexBet Withdrawal Methods
While it is entirely possible that TexBet will expand its withdrawal options, just as it has expanded almost every other facet of the operation, for now, withdrawing is limited to a funding credit card and bank electronic funds transfers.
We saw one source that claimed TexBet would permit withdrawals via PayPal, but we suspect this is not the case, as if TexBet were honouring withdrawal requests via PayPal, we would expect PayPal to be a funding option.
TexBet FAQ's
There is no sign up bonus for TexBet or any legitimated Australian bookie. Regulations that took effect in 2018 banned these types of bonuses. Frankly, when bookies did have sign up bonuses, the residency requirements and the way that bonus matching funds had to be wagered and turned over made those bonuses less than they seemed to be.

---

Absolutely. If we had any reservations about the legitimacy of TexBet, they would not be on our website. Another reason is that the O'Shea family has been associated with bookmaking for over forty years. Finally, as a NSW bookie, TexBet is a member of New South Wales Bookmakers Association, which is tasked with ensuring that all winning bets are paid in a timely fashion.

---

TexBet have exceptional odds for such a new bookie. While it is true that they do not always have the best odds, they have been creeping up on the bigger bookies and are now close enough in the odds race that only a punter making dozens or more bets per day would notice.

---

Yes. Many TexBet promotions resemble those popular promotions that punters seek out again and again. It is necessary to have a TexBet login to view current and active promotions, but finding a good promotion on TexBet just requires logging in and checking on a regular basis.

---

Tamworth is located about 400 kilometres north of Sydney in northern NSW. Tamworth is where the O'Shea operation is based and is home to the Tamworth Jockey Club and Tamworth Racecourse. There are close to 30 meetings per year at the course, with one of the top races being a 3YO Quality Handicap worth $150,000 in prizemoney.

---

Not at this time. Live betting in Australia requires a telephone call to lodge a wager. A smaller bookie such as TexBet does not have the staff necessary to support something such as, say, a flood of calls at the half of an AFL Grand Final or other major sports or racing event.

---

No. They have a customer service phone number, but bets will not be accepted at that number. Neither can bets be lodged with the TexBet chat feature. Telephone betting, in our view, is obsolete and we have been wondering, since 2008 when the Interactive Gaming Act went into effect, when Australia will join the 21st century and allow online placement of wagers on live events like the other civilised countries of the world.

---

TexBet receives high praise from us and punters of our acquaintance. Live chat is the best option and thus far, we can advise punters to expect it to take about five minutes or less to get in touch with a live person. There is also an email address for questions that are less time sensitive. The telephone is the other way to get a live person to answer any questions.

---

Refer to the above section of this review for detailed instructions. The process is simple, even for someone setting up his or her first online bookmaker membership.

---

Not at this time.

---

The agency belongs to Terry "Tex" O'Shea and his son Wade, two persons well known around all the northern tracks of NSW. Tex has been fielding on races since the 70s, so the racing intel they supply is solid.

---

It is not necessary to have a referral code in order to set up a membership with TexBet.

---

Not that we know of, but those sorts of things are seldom made public until after the fact. Beforehand, buy out reports are nothing but rumours.

---

Not yet.

---

Somewhat surprisingly, yes. TexBet has TexBet TV. The surprising aspect is that as a newer and smaller bookie, it is rare to find streaming of any kind. Possibly as surprising is that the video quality if far superior to that of some of the other bookies, where it sometimes seems as though you are watching a black and white film from the silent movie era. It is true that some of the other bookies, the bigger ones at any rate, stream more events. We were able to access TexBet TV without logging in, something that some punters may find appealing.

---
Conclusion
Punters who demand the best odds for any market, regardless of how much that demand might cost in terms of other important bookie selection criteria, will probably not be inclined to bet with TexBet.
Punters who want to keep the money in Australia will be happy to accept marginally shorter odds in order to take best advantage of all the other superb features and benefits of a TexBet membership.
We would not hesitate to recommend TexBet to new and experienced punters alike. For the casual punter who comes out for the bigger race meetings and the major sporting events, TexBet is a great choice. More experienced punters will appreciate the racing knowledge that is there for the taking for anyone with a TexBet login.
While they do not stream as many races as some of the large bookies, the TexBet TV feature alone is well worth the price of establishing a membership.
As a sole source for online wagering, or as part of a multi-bookie membership wagering approach, TexBet is a sound choice.
Founded: 
Went online in 2020
Owners: 
Tex O'Shea and son Wade O'Shea
Products: 
Racing and sports wagering, with a few novelty markets
Location: 
Tamworth, NSW with a license issued by NSW
Support: 
Chat, email, phone
Turnover on Deposited Funds: 
1x
Email: 
info@texbet.com.au
About The Author
John DeBiase has been following the online bookmaker industry since 2010. He takes pride in remaining objective and is immune to bookie pressure to supply favourable reviews. When he does not have a bookmaker under the microscope, John derives great satisfaction from his pursuits as a self-taught musician, handyman, and grandfather.