Dabble made its debut in the waning days of 2021 with an eye toward the social side of betting. Members can follow other punters to see what sort of success they are having. Members have the option of placing a bet simply by tapping Copy Bet to lodge the same punt, although the amount staked remains private and the person copying a bet decides on what stake to risk.
Dabble offers enough sports and racing markets to develop some market share. There may be punters who will avoid Dabble because it does not have a desktop website, but those could be the same punters who avoided online wagering because they did not have a modem.
Does the future hold a traditional website for Dabble? Will other bookies embrace a similar mobile-only business model?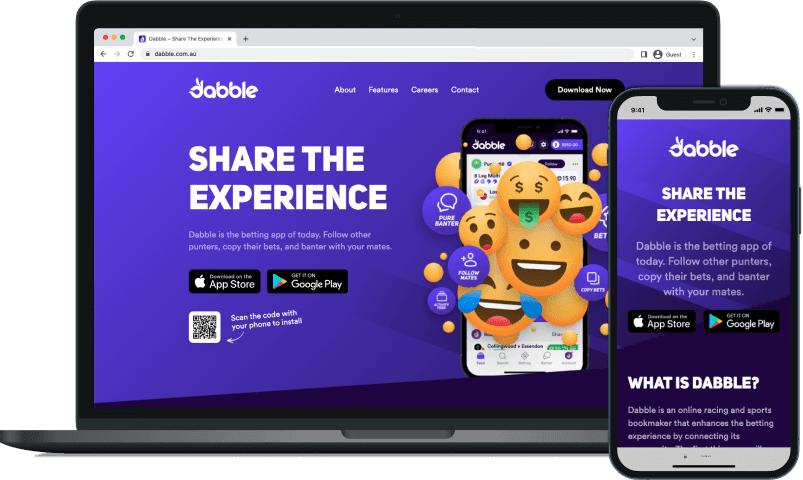 FOLLOW other punters, COPY their bets and BANTER with your mates
Popular For
Follow other punters, copy their bets
Racing experts, ex-jockeys & trainers
T&Cs apply and available on website. Gamble responsibly. www.gamblinghelponline.org.au. 1800 858 858
---
Australian owned and operated
Superb Customer Service
Good combination of markets and social media
Allows punters to copy the bets of other punters
Chat feature for exchanging tips and banter with other punters
---
No Desktop platform
Limited funding and withdrawal options
As a new bookie, there is not much history for Dabble

Dabble Odds
Dabble seems to have competitive odds. They have to. The Australian online wagering market offers punters so many choices that an online bookie with markets below those of rival bookmakers will not turnover any bets. Join Dabble Here
Too far above the other bookies may be worse still. That is the path to going out of business.
Some express the opinion that prices are the only thing that matter. Reviewing online bookmakers for well over 10 years has proven to us that the posted odds of an online bookmaker are about 20 percent of the picture, with equal importance falling on such criteria as website or mobile app design, available markets, promotions and customer service.
We ourselves love deals and seek them all the time. The pennies we find with online bookie prices do not justify the effort, in our opinion.
Dabble Markets
Dabble has all the necessary sports and racing markets to satisfy the vast bulk of all Aussie punters. We consider this impressive, as newer agencies often do not have the resources to handicap and price wildly diverse codes.
Dabble may not have as many markets as some of the old line corporate bookies, domestic or international, but if they are successful in attracting punters to their mobile-only concept, Dabble will expand and open up new markets. Whether a new market be an entirely different code, or an additional market for a sports or racing fixture, markets are important to bookies and punters. Punters who regularly build multi bets appreciate a better selection of markets, but all bookies, Dabble included, offer the most popular markets that attract the most bets, so our conclusion is that Dabble is okay now and will be better down the road.
Dabble Products
Dabble has race and sports betting, although it began as a racing online wagering agency only. They currently provide wagering markets for all three racing codes. That means Thoroughbreds to us, as we have little interest in the buggy pulling horses or the mechanical rabbit chasing dogs.
All the major sports have gradually made their ways into integration with the Dabble app. They have recently added soccer and tennis to bolster sports markets that include the AFL, NBA and Rugby.
It may be a stretch to classify some of the Dabble offerings as products, but these unique Dabble features could be considered as products.
Copy Bet – A Dabble option allowing punters to copy the bet of other punters, whether those punts are from mates or other successful punters who have chosen to make their punting profile public on Dabble.
Banter – This feature enables members to communicate with other punters directly through the Dabble app.
Dabble Bet Types
It is not possible to start an Australian online bookmaking agency without a big jump-start from the racing Join Dabble Here
Dabble Promotions

Straight away, let us get this out of the way. Australian bookies are no longer permitted, by government regulation, from offering sign up bonuses to punters initiating a Dabble membership.
Those went away in 2018, as many complaints were lodged by punters who did not bother to read the prominently featured bookie disclaimer about sign up bonuses not being available in Victoria, NSW, South Australia, Western Australia and Tasmania.
Dabble offers various promotions of the types generally seen with all the Australian bookies.
Some promotions are short-lived, such as a day-of-the-Melbourne Cup type. Other Dabble promos are on offer on a weekly basis.
Our Experience with Dabble
The Dabble mobile app routinely receives praise for its functionality and integration with social betting. We found it easy to download and install. It was also easy to find markets and get bets on. The Dabble app stays out of the way and permits focusing on the task at hand – finding good bets and getting them on quickly. Join Dabble Here
We older types had some beginner's frustration, but it was due to our bad eyes, clumsy fingers and the small screen on our phone. It was much easier once we switched to a tablet and we believe it would be easier still if the tablet was connected to a big screen TV.
We are not huge social media users, but it is obvious that Dabble is aimed at the younger punters, the ones who can barely remember life without smartphones.
We did appreciate that Dabble gave us direct access to a few successful punters. We would not normally consider copying someone else's bet, but when that bet comes from a punter with a reputation for an exceptional strike rate, it is worth some consideration.
Everything needed to manage an online wagering account on a mobile device is present, so there is not a lot about which to complain.
Our conclusion is that if we geezers can manage to navigate our ways through the Dabble app, those younger than us will take to it like fish to water.
Dabble Sign Up Instructions

Download and install the Dabble app.
Fill in the details required, such as name, address and phone number
Provide a valid email address and set up a password.
Fund the account if desired.
Set pre-commitment deposit limits if desired.
Verify the account – This must be done within 14 days of joining or the account will be suspended. Verification is mandatory before any withdrawals can be made.
Create Account.
It was actually pretty easy to do, although we should have connected our keyboard to our tablet to make data entry easier.
Dabble Betting Instructions
Use your Dabble login credentials to gain access to the app.
Navigate to the desired market.
Click the odds for the selected market.
Enter a stake
Submit bet.
That is the basic procedure. There are options. Rather than finding your own market, you could check the punts of a leading punter, or those being put on by your mates. In this instance, all you need do is tap Copy Bet and indicate the amount you wish to stake.
Dabble Deposit Methods
We found it interesting that a mobile-only bookie such as Dabble does not offer any of the modern eWallets that mobile users adore, such as Apple Pay.
Dabble accepts Visa, MasterCard and any debit cards.
True, this is a limited number of options compared to some of the rival Aussie bookies, but we have seen those bigger rivals add deposit options over time. There were those days where none of the bookies had PayPal as an option and days before any bookie had a branded debit card.
Based on those observations, we feel it is safe to say that Dabble will increase its funding options as they gain market share and have more members asking for more funding options.
Dabble Withdrawal Methods
It is possible to make withdrawals to a bank account. These take two to three working days. For accounts funded by credit card, regulations require that an amount equal to or greater than the initial funding deposit be returned to the funding account before winnings can be directed to a different source.
It bears repeating that a Dabble account must be fully verified before withdrawals can be made.
Dabble FAQ's
Yes. Australian bookies are stringently regulated by licensing agencies and the days of an online bookie taking deposits and vanishing were over before they ever started.

---

$5

---

Not if you do not want to do so, but many members look at the ability to see what others are doing, to heckle punters who made bad bets, or copy bets of successful punters as top reasons for joining Dabble. It is possible to do all of your own form and research on your own with Dabble.

---

They were in the beta testing stage at first, but the fully featured Dabble app came along in late 2021.

---

Dabble's license to run a bookmaking agency is issued under the authority of the Northern Territory, as is the case for the majority of online bookies operating in Australia. Dabble has offices in Darwin, Melbourne, Adelaide, Albury and Brisbane.

---

No. Dabble is mobile only, as of mid-2022 and we believe it is their choice whether to ever offer a desktop version. The online wagering industry has clearly shifted toward mobile wagering. Someday soon, we hope, Australian governments will wake up, realise that the Interactive Gambling Act of 1998 is a dinosaur in 2022, and take measures to permit live betting online.

---
Conclusion
Dabble may have started a trend away from desktop wagering platforms in the way that internet wagering shifted the punt away from rails bookies and retail betting shops and the way mobile wagering shifted the punt away from desktop sites to smart phones.
As new as Dabble is, we cannot predict where they will be in six weeks or six months. They could fail financially and shut the doors. They could be wildly successful and grow like a wind-driven bush fire. Success could mean acquisition by one of the big agencies.
We would recommend Dabble to racing and sports punters who are attracted by the social media aspects of the Dabble platform. There is little downside risk to joining and most users have reported positive opinions.
Products: 
Mobile racing and sports betting
Location: 
Northern Territory issued license with physical offices in Melbourne, Adelaide, Brisbane, Albury and Darwin
Turnover on deposited funds: 
1x
Minimum online bet: 
$0.01
Phone Support: 
Yes - 1800 322 253
Email support: 
support@dabble.com.au
About The Author
John DeBiase has been following the online bookmaker industry since 2010. He takes pride in remaining objective and is immune to bookie pressure to supply favourable reviews. When he does not have a bookmaker under the microscope, John derives great satisfaction from his pursuits as a self-taught musician, handyman, and grandfather.