Bookmaker.com.au entered the Australian online wagering business in 2012. It was about a year later that Ladbrokes bought the agency as an easy path into the lucrative Australian wagering market.
Today, they have combined the backing of Ladbrokes with what feels like a very Aussie-centric approach to punting, with great customer service and a fun, entertaining environment.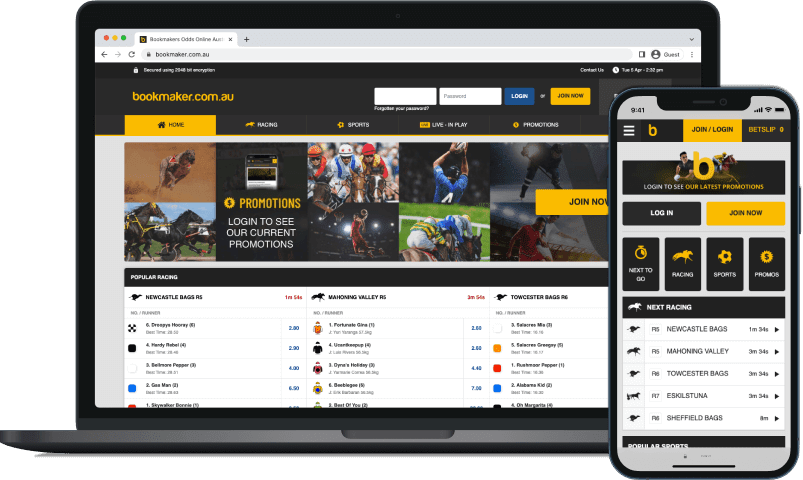 Online Betting
Racing & Sports
Popular For
Top choice for Australian and New Zealand punters
18+ T&Cs and wagering requirements apply
---
Security of being backed by Ladbrokes
24/7 customer support and phone betting
Convenient Bookmaker.com.au branded MasterCard debit card
Live streaming of Victorian Racing
Solid desktop and mobile website including nice mobile apps
---
Fewer live streaming options compared to some of the others, such as Sportsbet and TAB
Lacks a system for making quick live bets
Fewer sports markets than some of the competition

Bookmaker.com.au Bookmaker Odds
Bookmaker.com.au is owned and operated by the same corporation that oversees Ladbrokes and Neds, so it follows that Bookmaker.com.au will offer the same odds.
We have been following and reviewing the best bookmakers and Australian betting sites in Australia for 12 years. Speaking of best bookmakers Australia, Bookmaker.com.au is one we have always followed because they consistently offer great odds for betting online.
Bookmaker.com.au Markets
It is true that there are instances where bookmaker.com.au has fewer markets than some of the other betting sites Australia offer.
With thousands of markets every week, bookmaker.com.au exceeds the number most punters will find sufficient, and then some.
Bookmaker.com.au Products
Bookmaker.com.au has an extensive set of products for punters who appreciate having plenty of choices.
We are mostly concerned with racing, Thoroughbred racing, here at Pro Group Racing, so our focus will be on the products Bookmaker supplies to members with a bookmaker.com.au online wagering account.
Here are a few of the bookmaker.com.au products
Bookmaker.com.au Cash Card – Instant access to winnings and the ability to collect those winnings in the form of cash from thousands of ATMs.
Today's Racing Venues – View the Horse Racing Venues for all today's racing along with betting markets for Australia wide plus all the racing in other parts of the World along with Greyhounds and Trots.
Pick Your Own Odds – Feeling confident? If so, predict the winning margin of your winning galloper and Bookmaker.com.au will pay dividends above the original bet return.
Favourite versus Field – Instead of picking the winner, you decide if the favourite can be beaten by any of the other runners in the field. Odds are lower of course.
Live Betting – Bookmaker.com.au has plenty of live betting markets.
PayPal – without doubt, the best way to handle deposits and withdrawals, other than the bookmaker.com.au debit card.
Mobile website and phone betting apps – All three of the Bookmaker.com.au mobile apps feature a high degree of user-friendliness. We consider the mobile app one of the best bookie apps on the market.
Past the Post Payout – All winnings from all three racing codes are paid shortly after the interim dividends are declared.
Protest Payout – This nifty product pays the interim winners and the official winners for Thoroughbred and trots.
Best Tote or Starting Price – Eliminates the need to compare all the quotes of the various totes to find the best bet.
Bookmaker.com.au adds new products often, making them a betting agency to follow and the best way to stay on top of new products is to login to your bookmaker.com.au account frequently to have a gander and see what is new.
Betting agencies come and go, so PGR is the place to learn about new Australian bookmakers and betting companies. Australian betting evolves constantly. The online bets Australia offers expands exponentially.
Bookmaker.com.au Bookmaker Racing Bet Types
Bookmaker.com.au is one of the best betting Aussie bookies that supports all the major racing and sports bet types. We are dedicated to racing here at PGR, so here is a sampling of what racing punters can expect from their bookmaker.com.au online wagering account.
Fixed price betting for Win and Place odds – This is the simplest type of race bet types, but not the easiest.
Pick Your Own Odds
Best Tote or Starting Price – The intention here is to assure punters that it is not necessary to look at all the various TAB quotes.
Favourite versus Field – This bet type is available on ALL Australian racing, not only bookie nominated races.
Mid Tote
Mid Tote + 5 percent
Starting Price
Top Fluc
Top Tote

As should be apparent, bookmaker.com.au is focused on race punting and racing punters should derive great satisfaction from this.
We must mention that bookmaker.com.au supports plenty of sports bet types for events all over the world, covering both major and lesser known sports.
Bookmaker.com.au Promotions & Betting Offers
The Bookmaker.com.au promos are diverse and interesting and are offered only to existing and funded members only. You must log in to your account to view all promotions.
While we do not think promotions alone are enough to tip the balance in the directions of one bookie or another, we do think that promotions are a good reason to log in to your bookmaker.com.au online wagering account to see what is on offer.
Bookmaker.com.au offers sports and racing promotions that change frequently, but there are some promotions that are available all the time.
Another good racing promotion is the Protest Payout. If you have ever had a backed runner win, only to be disqualified due to an upheld protest, you know that sinking feeling that follows the elation of getting a race right.
Well, the Protest Payout is a Bookmaker.com.au promo that will pay the dividend on both runners if the protest is upheld.
Our favourite Bookmaker.com.au promo is Favourite Versus Field.
Using this promotion allows Bookmaker.com.au members to bet in a way that is similar to betting on a footy match. Instead of trying to figure out which of 12 gallopers will win, the decision is more a case of will the favourite or one of the other 11 win the race.
The short-priced favourite in a Thoroughbred race on average wins only about one time out of three. This is a simple Bookmaker.com.au promo to use and it provides valuable input for learning the ropes for punting on the gallops.
Another feature that Bookmaker.com.au promotes is the Past the Post Payout. This is simply Bookmaker's way of informing members that their winnings will be paid shortly after the interim dividends are available.
This promotion is applicable to all three Australian Racing codes, so if you are interested in the harness and dog action, the Past the Post Payout is one worth investigating.

To summarise, we think that Bookmaker.com.au offers enough promotions to withstand scrutiny. While there may be others who hold a different opinion, we have to point out that promotions are the icing and not the cake when it comes to Australia online betting.
Our Experience with Bookmaker.com.au
We think highly of the bookmaker.com.au website. The following information is based on the desktop website, but the mobile version and the Android and Apple betting apps, with minor differences, function similarly. This betting agency does have some of the best bookie apps Australia online bookmakers have to offer. It is one of the better betting websites as well.
A bookie's website, for all the attention given to it, is just a tool for placing bets and the bookmaker.com.au website is one of the sharper tools in the box.
Bookmaker.com.au has a website that supplies the information without getting in the way of the benefit of online betting Australia.
Once you get past the landing page at bookmaker.com.au, you will find the familiar three-column layout that, over the years, has become the industry standard.
This simplicity and familiarity allows new and seasoned punters to concentrate on the task of finding bets that make sense. After all, backing a horse or a sports club is challenging enough without bookies redesigning their websites all the time, making it necessary to learn the wagering routine all over again. This alone makes bookmaker.com.au one of the best betting Aussie bookies in Australia.
The colour scheme of the Bookmaker.com.au online wagering platform is a little dull, compared to the flashy red of Ladbrokes or the Day-Glo orange of Neds. Since all three of these bookies operate under the auspices of one corporation, it is almost as though they are offering something for everyone.
Which bookmaker gives the best odds? What bookmaker.com.au does share with its sister sites are the identical odds and markets. This is comforting to us and most punters will be relieved to know that it is not necessary to hop all over the place looking for a couple of cents in the odds.
The top banner of the bookmaker.com.au website is either dark grey or black, depending on your point of view. The banner features a high-contrast yellow text that really pops. To the right of the Bookmaker logo are two white boxes for your user name and password, a blue box to log you into the site, another yellow button for anyone who want to join and on the far right, in contrasting white is the Betslip.
The bottom of this top banner is where the fun starts.

It has buttons for Home, Racing, Sports, Live-In Play, Promotions and How To. Selecting any of these shifts the colour from white text on a dark background to a yellow background with black text.
This arrangement ensures that it is always immediately apparent what codes you are examining.
Selecting the racing button takes you to a page that shows all the domestic racing plus racing taking place in Hong Kong. Those locations are displayed in the centre column, showing the name of the track, the race number and the time remaining until the jump of the race.
Directly below is an identical section that shows the available racing markets for the rest of the world, followed by sections for the other racing codes.
It is possible to filter this centre column by any of the three racing codes, either at the top of the left column or at the right edge of the centre column, a feature that punters using the smaller screen of laptops, tablets and mobile phones will appreciate.
Returning to the left column, below the racing code filter are sections for the Next Five races, Racing, Quick Links to sports markets. This is followed by a section for Live Betting, although we feel that the same tabs at the bottom of the main banner are a faster way to get to the live markets.
The right hand column of the bookmaker.com.au website contains the betslip, which is hidden until it is clicked, but even when it is hidden; it will show the number of bets that have been selected.
If you are completely new to online wagering, we recommend spending a bit of time on the How To section that is the right-most box at the bottom of the top banner. This section contains vast amounts of information that will answer many questions before they are asked, if that makes sense. You will need your bookmaker.com.au login in order to view the How To section.
At the bottom of every page is another black/dark grey banner that provides a list of bookmaker.com.au links, logos for the leagues for which Bookmaker.com.au is an approved betting operator.
All the payment options, a link to obtain the Bookmaker.com.au debit card, phone numbers for live betting and customer support, links to the mobile betting apps, information about responsible gambling and the bookmaker.com.au Terms and Conditions.
We have heard of criticism being directed at the bookmaker.com.au website for a perceived lack of certain niche sports and fewer markets than some of the other online best bookies, but we feel this is whinging for the sake of whinging, as we think the number of racing and sports offerings is more than adequate.
Bookmaker Sign Up Instructions
It is quite easy to complete the enrollment process for a bookmaker.com.au online betting account. Just follow the below instructions and you will be done in a matter of minutes. You can use any internet-connected device, but you may prefer a full-sized keyboard for entering your data.
Instructions for Bookmaker.com.au Online Betting Account
Use a web browser to navigate to www.bookmaker.com.au
Click on the yellow Join Now box in the top-right hand corner.
Next, fill in the form that appears with your first and last name, both of which must match your name on any ID documents you will use to verify your Bookmaker.com.au account.
Supply a legitimate email address.
Ignore the bonus code box.
Click Continue.
The next page is where you will pick a user-name and password. The password must have upper and lower case letters, at least one number and must be at least eight characters in length.
Click Continue.
The next box is where you will provide your date of birth, mobile phone number and your country and your address. The country must be Australia or New Zealand. In some instances, your address info may auto-fill, but if not, you can select Enter Address Manually.
Next, you have options to set a deposit limit or to skip setting a deposit limit. If you click Set a Deposit Limit, a window opens up where you can enter an amount and choose the duration of the deposit limit. Your choices are one day, seven days, 14 days, 30 days and 365 days.
Alternatively, you can select Don't Set a Deposit Limit.
After steps 10 or 11, click on the yellow Create Account box.
Click the yellow Create Account box.
Done!


One thing to keep in mind is that Bookmaker.com.au, or any other online bookmaker for that matter, will not offer you a sign-up bonus. Those types of bonuses were eliminated in 2018, yet years after, search statistics indicate that people are still chasing after these.
While all the bookmakers posted a disclaimer about the eligibility requirements for these sign-up bonuses, many people, in their eagerness to be enrolled and betting, overlooked the disclaimer and were subsequently dismayed to discover that they lived in a state where the laws in place at the time prohibited them from collecting a bookmaker sign-up bonus.
There were further restrictions placed on sign-up bonuses by the various bookmakers' Terms and Conditions, such as increased turnover requirements and a requirement to bet on markets with odds quotes of at least $1.50.
For years, we here at PGR beat the drum for ignoring these bonuses as a reason to choose an online bookmaker and we hope we helped a few punters avoid doing just that.
To be clear, we do not think bookmaker.com.au, or any of the other highly reputable and trustworthy online bookies we review were engaged in deliberate deceit.
The higher turnover requirements for sign-up bonuses were a measure to prevent financial fraud, such as someone attempting to withdraw sign-up bonus funds in cash, along with other anti-money laundering issues.
We want anyone who signs up for an online bookmaker account to do so with clear expectations.
Signing up for an online wagering account with bookmaker.com.au is a simple process that for most people will take less than 10 minutes.
Once done, you will have complete access to all of the bookmaker.com.au features and markets that make this online bookmaker one of the best in Australia.
Bookmaker.com.au Betting Instructions
It is easy to place simple Fixed Odds bets, or even elaborate multis on the bookmaker.com.au wagering platforms.
The bookmaker.com.au website is fast, responsive and intuitive, even though it is set up a little differently from Ladbrokes, the owner of bookmaker.com.au.
We like that it feels a bit simpler.
Instead of the traditional three-column arrangement that is practically an industry standard, bookmaker.com.au takes the items that normally appear arranged vertically in the left column of a bookie page and places them horizontally across the top of the main page just below the main bookmaker.com.au logo and the boxes for supplying your user name and password.
When you navigate away from the home page at www.bookmaker.com.au, the traditional three-column layout is again in effect, so anyone with the slightest familiarity with online bookmakers will feel immediately at home.
Here are some abbreviated instructions for placing a Fixed Win bet on a Thoroughbred race.
Log in to your funded bookmaker.com.au online wagering account.
Find a race on which you would like to bet on.
Click on the price quote of the runner you want to back. This will open and populate the bet slip in the right-most column of the page.
Enter the amount you wish to stake.
The bet slip will calculate your estimated return.
If everything looks proper, click the Bet box at the bottom right corner of the bet slip. If you change your mind about placing the bet, click the Clear box instead.
These simple instructions point out the ease with which a punter can find, select and fund bets with bookmaker.com.au. A casual punter who wants to make the Melbourne Cup more interesting could use these instructions and have the matter settled in under a minute.
To be sure, there are other elements involved. Many racing punters spend some amount of time researching runners, jockeys, tracks, race distance, track conditions and other elements that contribute or affect the outcome of Thoroughbred races.
The process of putting on a wager with bookmaker.com.au is similar across all of their platforms. A desktop with a good-sized monitor is practical for doing the heavy lifting of studying form, and looking for any sort of edge from some of the elements mentioned above, but a lap top computer would suffice.
Younger punters will be equally comfortable on a tablet or mobile phone. Even we geezers can handle wagering on the bookmaker.com.au mobile website and mobile betting apps, because the wagering interfaces on every platform look remarkably familiar.
Mobile device wagering is a great tactic for punters who do their homework, possibly even put some bets on, and then head to the track to have a look at the runners to see if they look fit and will race according to expectations, or if they seem off and possibly having a bad day. Bookmaker.com.au has some of the best betting apps we have come across, making them one of the top Australian betting agencies in our view.
Bookmaker Deposit Methods
Bookmaker.com.au has a wide array of methods for funding a Bookmaker.com.au online betting account.
By our order of preference, they are the Bookmaker.com.au branded debit card, PayPal, Visa, MasterCard, POLi, BPay, PayID and Flexepin.
As part of the Ladbrokes brand of online bookies, the funding and withdrawal systems are very similar.
Here are a few additional details on the various ways of handling banking functions with Bookmaker.com.au.
Bookmaker.com.au Debit Card
Our top choice, the Bookmaker.com.au branded debit card, is linked directly to a nominated bank account. It can be used for purchases at retail and online merchants. It features the PayPass system that permits funding at any of hundreds of retail outlets all over Australia. Online betting sites that have this feature gain favour from us.
The best feature is that it permits punters to access winnings instantly to make purchases or withdraw cash from ATMs. It does take about three weeks from date of application to receive the card, so some punters may want to use another method while waiting for the card.
When the card comes via Australia post, there is a letter included that contains an activation code. This 9-digit code will instantly activate the Bookmaker.com.au card.
Withdrawn winnings will appear in a Bookmaker.com.au account in a matter of seconds.
PayPal is a trusted route for financial transactions. There are usually no fees associated with PayPal transactions that originate domestically and deal with the Australian dollar.

Credit and Debit Cards
Visa and MasterCard function similarly and have solid systems in place to prevent fraud.
POLi, BPay, PayID and Flexipin are options for individuals who want instant access to wagering, but do not have the Bookmaker.com.au debit card, a PayPal account, or simply prefer not to use a credit card due to the fact that some issuers treat deposits to Bookmaker.com.au as a cash advance that will incur fees.
When it comes to withdrawals, it is hard to beat the Bookmaker.com.au debit card. PayPal is handy, but it usually takes a day or two for a withdrawal request to be processed.
To conclude, Bookmaker.com.au has enough funding methods to satisfy anyone. They are on par with any of the other bookmakers in Australia in this regard, so it comes down to a question of personal preference.
Bookmaker.com.au FAQ's
Yes, for a number of reasons. First, here at PGR, we only endorse Corporate Bookmakers that have established a reputation for transparency and dependability. Next, Bookmaker.com.au has been operating in Australia for many years – unscrupulous bookies tend to disappear as fast as they arise. Finally, the agency is now owned by Ladbrokes, which has revamped the operation to enhance its competitiveness and earn a larger share of the Australian betting market. Ladbrokes has been operating since the 1880s and would not want to risk a 100+ year reputation on an Australian wagering agency with a poor reputation.

---

Sign-up bonuses are no longer permitted in Australia. The Government and the various regulatory agencies that oversee gambling in Australia determined that the sign-up bonuses were too restrictive geographically – most of the country was not eligible to receive a sign-up bonus. The only states/territories where punters could qualify for the sign-up bonuses were Queensland and Northern Territory. Those two areas account for a small percentage of the population of the country. Anyone who lived in Western Australia, South Australia, Victoria, New South Wales or Tasmania could not use sign-up bonus bets or funds.

---

Their live streaming of events is limited, especially compared to sites such as Sportsbet or the TAB. Since they are now backed by Ladbrokes and Ladbrokes' parent corporation Entain, it would be reasonable to expect more streaming options sooner rather than later. Live streaming, especially of some niche markets, has proven wildly popular, so it is just a matter of time before Bookmaker.com.au offers a more thorough streaming option.

---

Bookmaker is a great choice for racing punters. They supply many racing markets and bet types, equivalent, in our view, to any of the online bookies operating in Australia. Their technology is reliable and easy to use. They offer top odds for many of the domestic metro meetings, including many daily promotions to include the major races and meetings of the racing carnivals in Spring and Autumn.

---

As of late December 2021, the Bookmaker website mentions that a form guide service is under development. This is also true for a black book service that is being built out to add another feature to the offerings.

---

Yes, but they are generous limits that should not affect anyone, even punters who make many substantially sized wagers per meeting. Just for an example, the limit for Australian Metropolitan Thoroughbred racing is $100,000 per punter, per bet type. Someone backing a $2.90 galloper would have to wager nearly $35,000. Those calculations come ahead of the question of why someone with an extra $1.75 million laying around, because it is imperative to never punt with money that you cannot afford to lose, would want to punt in the first place.

---

There are several reasons why Bookmaker.com.au might suspend a wagering account. The primary one is when a punter does not verify their account within the two-week window required by Bookmaker.com.au. There are other times when a mistake in entering required personal data has occurred and needs to be corrected. Rarely, suspected fraud or other suspicious activity may cause a Bookmaker.com.au online betting account to be put on hold.

---

Yes. This can be set up at the time of joining Bookmaker.com.au and it can be done at any time by clicking on the My Account button, and clicking the Responsible Gambling button. The bottom of the page will offer the option Managing Your Deposit Limit, with a link to follow where a limit can be set. This is something the best bookies like bookmaker.com.au do.

---

Absolutely. Bookmaker.com.au use 2048-bit encryption to protect members' personal information. They also have various verification systems that must be followed in order to maintain a Bookmaker.com.au online wagering account in good standing.

---

Yes. To participate, scroll down the left column, click on Jockey Challenge and follow the simple process of backing a jockey or jockeys. Racing punters like the ongoing contest to see which jockey can earn a premiership in all the racing jurisdictions. Many bookmaker online betting sites find that clients enjoy these.

---

Bookmaker.com.au has a wide range of live betting markets. Near the bottom of the left column of the Bookmaker.com.au website, there is a section devoted to live betting. Clicking on the yellow View All Live Betting button will show all the current Bookmaker live betting markets. The number of live betting bookmakers markets will of course vary according to the time of day, day of the week and time of year, but on a recent check of the Bookmaker.com.au website, we found hundreds of live betting markets, even in the pre-dawn hours.

---
Conclusion
Of all the bookmaker online betting sites Australia offers, we would be fine recommending the bookmaker.com.au website and mobile wagering portals to anyone interested in Australian betting agencies who appreciates speed and simplicity.
Casual punters will find everything they need in a sole provider and even the more active punters will find that the bookmaker.com.au website is worthy of consideration as one of several or many online bookmaker memberships.
As one of the old guards, they are one of the best bookmaker online betting sites Australia offers.
We like them for the racing codes, but they also have one of the nicer Australian sports betting sites and overall, one of the top betting bookmakers sites Australia offers.
Products: 
Races & Sports Betting
Location: 
Fannie Bay Racecourse, Northern Territory
Support via: 
Phone, email & live chat
Turnover On Deposit Funds: 
1x
Phone Support: 
1300 123 888
Live Betting Phone: 
137 888
Email support: 
support@bookmaker.com.au
Post: 
PO Box 3321, Newstead, QLD, 4006
About The Author
John DeBiase has been following the online bookmaker industry since 2010. He takes pride in remaining objective and is immune to bookie pressure to supply favourable reviews. When he does not have a bookmaker under the microscope, John derives great satisfaction from his pursuits as a self-taught musician, handyman, and grandfather.