Michael Eskander moved from Egypt to Australia in 1966. He has been a bookmaker for the better part of 20 years. He established a reputation for taking on big Aussie punters, such as Kerry Packer. Son Alan received his first bookie license in 1997 and has worked the rails at country and metropolitan tracks since 2000.
Betstar has 40 employees in Darwin and Melbourne and reports an annual turnover of close to $300 million.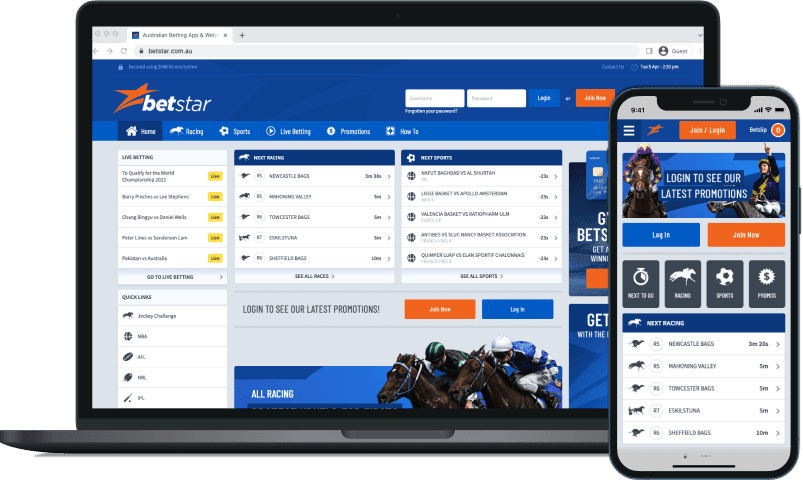 Bet On Horses,
Sports, Dogs & Trots
Popular For
Fixed Odds + 30% Selected Races
Favourite versus Field betting
Less popular sports markets covered
18+ T&Cs and wagering requirements apply
---
Betstar Visa debit card for quick, convenient banking
Top bookie for Fixed Odds with Best Tote or Starting Price
Live streaming of races held in Victoria
Mobile betting convenience of iWatch app
Security offered as part of Ladbrokes Group
---
Fewer daily racing special promotions
Not as many sports markets as some rival bookmakers
No Live Chat

Betstar Odds
Michael and Alan Eskander have been in the bookmaking business a long time. They are well aware of two scenarios that will run a bookie out of business quicker than Winx could win a Cox Plate.
The first scenario is offering odds much better than the odds of any of the other bookies. That is a sure path to bankruptcy. The other scenario is giving odds that are much worse than the other bookies. That path leads to a bookmaking agency withering and dying from lack of punters.
The Eskanders were rails bookies before technology more or less killed the rails bookies as punters found it easier to point and click to make bets without going to the races.
All of this means is that Betstar have competitive odds for all the codes and markets they offer.
Plus, with Ladbrokes now pulling the strings, punters will find the exact same odds on Betstar as they will on Ladbrokes, Bookmaker.com.au and Neds, the other leg of the Ladbrokes triumvirate.
Just to supply some reassurance of the truth of the above statements, here is a quick comparison for a mid-week meeting at Ascot Racecourse in Western Australia.
The favourite in race 7 was a galloper named Cable Guy. Betstar were quoting him at $3.40. Next was Brother Paddy for $5.00, with Celebrity Witness and Baramagic both priced at $6.00.
We found the same prices with Sportsbet, with the exception that they had Brother Paddy at $5.50.
Conversely, there was a runner in the same race named Al Mahalo for $41 with Betstar, but just $34 with Sportsbet.
We could compare racing odds all day and we could switch over to sports for the better part of the day, but our years of following and reviewing online bookmakers tell us that it would be futile.
The lesson to be derived from the above example is that while odds are a critical criterion in bookmaker membership selection, there are other criteria that must be examined to reach a decision based on which bookie supplies the best all-around value for the punter evaluating online bookies.
Betstar Markets
Betstar, as a bookmaking agency started by rails bookmakers, has some of the best racing markets of any Australian bookie, even the big internationals. The father and son, Michael and Alan, were rails bookies long before they dove into the online wagering realm
A typical day with Betstar will offer hundreds and hundreds of racing markets, spanning the gallops, trots and dogs.
They offer all these markets in a logical fashion, with horse racing in Australia and New Zealand, followed by horse racing for the rest of the world, where they offer coverage of racing in South Africa, the United Kingdom, China, Europe, Japan and the United States.
This is followed by Greyhound racing, presented in the same order as the horse racing. Lastly, Betstar present their harness racing markets.
We can confidently say that Betstar need not to apologise to anyone for their coverage of the racing codes. It is some of the best offered to Australian punters.
The list of sports codes offered by Betstar is perhaps not quite as long as some of the others, but they do offer markets in many of the niche sports, including snooker, pool, table tennis, netball and handball.
Betstar also have Novelty and Politics markets.
To determine how Betstar rate in terms of sports markets, by which we mean the major sports that attract the most punting, here is what we found on our most recent visit.
Three days ahead of the first bounce of the next round of the AFL competition, Betstar were offering 158 markets for the match between the Giants and the Saints. We saw just 97 markets with TAB.
This snapshot of Betstar sports markets was taken several days before the match. Punters can expect the number of markets to jump considerably as the time for the first bounce approaches. This is often the case with online bookies, even though most of the additional markets that go up seldom get any punter funds. The thing to be looking for in this scenario is markets that are added as the result of news that could affect the entire game, such as a key player being scratched due to an injury sustained during training.
While some others might offer more markets per AFL fixture, Betstar have plenty on offer, including all the popular markets, those being the ones that actually attract bets, such as head-to-head, big-win-little-win, line, first goalscorer, total points over/under and winning margin.
Our conclusion is that Betstar have a great selection of markets, all anyone could ever want, and then some.

Betstar Products
Betstar do not have a reputation for providing as many betting offers when it comes to racing and sports betting, but they do offer odds that are equivalent to those of most bookmakers.
Here are some of their valuable products.
Betstar Visa Cash Card – Instant withdrawals of winnings 24/7 from any Australian ATM plus instant deposits.

Past the Post Payouts – Dividends are paid on all the racing codes shortly after interim dividends are known.

Protest Payout – If the winner has a protest lodged against it and the protest is upheld, Betstar will pay both the interim and the official winner of any Australian Thoroughbred race.
Bookies introduce new products all the time. Betstar is no exception.
Betstar Bet Types
Betstar have a lot of racing bet types. Here is the list.
Best of Best – Best dividend of the main totes or TopFluc

Fixed Price

Midtote – Second highest paying tote

Midtote + 5% - Bonus added to midtote dividend

Nomtote – Punters can nominate the tote price

Starting Price or SP – Official bookmaker price on a horse

Starting Price Guarantee or SPG – Higher of the fixed price at time of wager placement or the Australian Pricing Network

Best Tote

Best Tote or SP

TopFluc

TopTote

Vic Tote
All those bet types are just the win bets. Betstar offer five bet types for Place bets and seven exotic bet types.
Betstar Promotions and Betting Offers
Four years after government regulation banned the practice, we still field inquiries about the Betstar deposit bonus or the Betstar sign up bonus. Those sorts of bonuses are extinct.
Betstar does offer weekly promotions, enough to make us consider Betstar as an excellent choice for an online wagering membership. The best time to check for promotions with Betstar is on Saturdays. While some rival bookies offer more promotions, at least in terms of quantity, Betstar promotions are very useful.
Anyone with a Betstar login can check the available promotions at any time and it only takes moments to take a good Betstar tip and make it into a better proposition with a Betstar promotion.
The best Betstar promotions, in our view, is the Favourite versus field racing promotion. It applies to all three racing codes.
Favourite versus Field offers the benefit of providing a refund on a nominated race where the Betstar designated favourite is scratched. Some rival bookies keep punters' stakes if a runner is scratched.
While Betstar do not always have as many promotions as some of the rival bookies have, every Betstar promotion we have seen is bona fide, that is, not attached to so many terms and conditions as to be rendered useless.
They constantly devise new promotions, as this is an important aspect of retaining members.
Our Experience with Betstar
We happen to think very highly of the Betstar's website.
Part of that is because we are not simply racing punters, but Thoroughbred punters. Our opinion is that Betstar is the bookie to choose for racing punters in general and Thoroughbred punters in particular. There is a lot of subjectivity to that last statement, but racing punters are unique in that they know there is far more to race punting, with fields of competitors, as opposed to sports punting, which is almost always one club versus another.
Another reason we appreciate Betstar's website is that it has such a clean, uncluttered appearance, which makes it easier to focus on the challenge of finding good racing punts.
Racing is a much more complex proposition than sports. There are typically six or more runners in a race, so the eventual outcome is murky when compared to a sports contest that has only two competitors. We might have to admit an exception for professional golf, which often has around 150 competitors for a tournament.
Sports punters, we think, will find the Betstar website well worth the small effort involved in signing up with Betstar and getting login credentials.
Betstar uses a very professional looking colour scheme that lets members put the focus where it belongs – on the markets. One of the things we truly appreciate about the Betstar wagering site and mobile apps is that there is plenty of blank space, rather than having every last centimetre crammed with text, images and marketing content.
Directing a browser to www.betstar.com.au will take visitors to a homepage that is subtle and effective. Blue, light grey and white are the primary colours used. There is sharp, black text and just a little bit or orange used for important links, such as "Join Now," "Find Out More" for promotion details and "Apply Now" for the Betstar Visa debit card.
The top banner is on a deep blue background with five simple actions to supply username and password, a Betstar login button, a button to join and a link to the bet slip.
Next is another banner, this one of a lighter blue shade and again marvellously uncomplicated in design. It offers links to the Betstar Home page, Racing, Sports, Live Betting, Promotions and the excellent Betstar How To section of the site.
Betstar use the traditional three-column format for the website.
The left column begins with filters for the racing codes, and then lists the next five races to jump, with a timer that counts down to the jump. The next five races are for all three racing codes, the filters do not apply here.
Next in the column is Racing, which can be sorted by code and includes Featured Races and the Betstar Jockey Challenge.
Next, come quick links for sports markets that appear to be ordered by popularity, not as in popularity with the public, but popular in the sense that those are the markets receiving the most punter attention at the moment.
The centre column has all the prices. In this case, the racing at Caulfield supplied links to the bet types, such as, for the race we selected, Win/Place, Trifecta, First Four, Quinella and Exacta. Form for each runner is given, along with the rider, the trainer, and the weight to be carried. This middle column also shows the Flucs, followed by the prices for all the options such as Fixed, Top Fluc, Best of Best, Tote and so on.
A feature we really liked about the centre column is that when a price is selected, it changes from blue text on a light grey background to a dark blue background with white text. The visibility is superb.
One feature we would like to see Betstar incorporate, one that is rare with most of the Australian bookies, is one that provides the name of a race when a cursor is hovered over the race number. We might be part of a minority that wants this though, judging how few punters must want this feature and we are saying few punters because if a lot of punters wanted it, it would be there.
The right column is for the bet slip.
It performs to and above expectations, with divisions for getting bets on and for checking on pending bets. There is a box for the desired stake amount that includes an Estimated Return and for races that offer it, a clickable box for making the bet Each Way.
We have encountered criticism of the Betstar website, saying that the site "lacks sophistication," whatever that means. We disagree heartily; in fact, we far prefer simplicity or "unsophistication" to pages crammed with useless information and annoying scrolling slideshows.
We conclude by saying that the Betstar website and every Betstar page is designed to make wagering with Betstar a pure pleasure, instead of a quest to find markets and prices amidst a bunch of clutter and distracting elements.
Of all the major online bookie websites we have examined over the past 12 years, Betstar are in our top three all the time and number one on more than one occasion.
Betstar Mobile Apps
Our first look was at the mobile version of the Betstar.com.au website.
We accessed the mobile website by using an iPhone 11 using the Safari browser. The mobile website loaded quickly and we were pleased that our expectation that the mobile website would closely mimic the full website proved true. The left column of the website is replaced by a hamburger icon that when tapped, displays the links that were displayed in the left column of the primary website.
Our personal preference with online bookies is the mobile version of websites, followed by the Apple mobile app, with the Android app being the last choice. Not that there is anything bad or dysfunctional about the Android app; quite the contrary, it is fully functional and well designed. Our only objection, more of a minor niggle, actually, is the extra steps required to get the Android app since the Google Play Store does not support wagering apps.
There were buttons to log in or join located at the top, close to the button for the bet slip. Under the main Betstar logo/image were buttons to log in or join.
Next was a row of icons for Next to Go, Racing, Sports and Promos.
From there, it was on to the centre column of the main website, where Popular Races and Next to go were accessed with a little bit of scrolling.
Switching to sports took us instantly to pages that led off with Popular Sports.
As much as we enjoy clicking around on the full website, we enjoyed the mobile version as much or more.
Betstar do have mobile apps dedicated to Android and iOS devices.
Since we were Apple users on the days we compiled our latest Betstar review, we used the same phone we used for the mobile website to download and install the Betstar mobile app for iOS in under two minutes. It could have taken 10 minutes, as long as there were no unexpected glitches, but there were zero, so we have to say that Betstar's app technology functions exceptionally well with that of the operating system.
We are assuming that the Android app functions similarly, so we have to say that Betstar have done a great job with their mobile offerings.
Betstar mobile wagering will find favour with anyone who likes to have a bet on the go and want to find that bet and get on fast and easy.
Those who are adept at using mobile devices for many aspects of modern life will find the Betstar mobile offerings as good as or better than some competitors and permit every function that can be done on the main website.
Betstar Sign Up Instructions
Like everything else on their sites, Betstar have made signing up a simple task that requires only a few steps. It takes more time to read the following instructions than the actual Betstar sign up procedure requires.
Direct a browser to www.betstar.com.au

Click or tap on "Join Now"

Enter the required identifying information

Pick a username and Password

Make an initial deposit if desired

Set any desired deposit and betting limits

Click Create Account

If the choice was made and an instant funding method used to make a deposit – start betting!
Betstar Betting Instructions
Placing a first or any subsequent bets with Betstar is another simple procedure. Once a market has been identified and a price selected, it is simply a question of adding a stake and confirming the bet.
Direct a browser to www.betstar.com.au

Log in with the user name and password created in the sign up process

Pick a racing or sports market from the left column, or simple click/tap on one of the markets offered once logged in

Enter a stake amount

Make any additional selections

Once the bet or bets have been finalised, click/tap Place Bet
Betstar Deposit Methods
Betstar have plenty of ways to fund a Betstar wagering account.
They accept Visa, MasterCard, PayPal, POLi, BPay, Flexipin, the Betstar debit card and Pay ID.
We ourselves would opt for the Betstar debit card. Not only is this method quick and convenient, dividends are credited right away and the card can be used at ATMs, merchants that accept credit cards and online stores.
Our next choice would be PayPal, followed by Visa and MasterCard, and then, all the rest.
We have seen larger bookies offer fewer deposit methods, so Betstar gets a thumbs up from us for making it easy for members to fund their accounts.
Betstar Withdrawals
Log in to your Betstar account, and then click/tap the "My Account" button in the navigation menu. Click/tap "Withdraw" under the Banking and Transactions heading. Select the preferred withdrawal method and the amount. Pay attention to the processing and transaction limits. That is all it takes. Be sure to check the Betstar Terms and Conditions, as there are some specific rules, especially rules governing credit card withdrawals.
One final note applicable to both deposits and withdrawals should be taken into consideration.
Many credit card issuers view deposits and withdrawals into a wagering account as a form of cash advance. There are often minimum fees involved or a percentage of the amount. Remember, those are coming from the bank or financial institution that issued the card.
Betstar FAQ's
Before any withdrawals can be made from a Betstar wagering account, Betstar will require the member to verify his or her identity. With Betstar, members can do this by visiting the Betstar Verification Centre, where the various acceptable verification documents and procedures are outlined in complete detail.

---

The most common reason is failure to verify the account within the Betstar required 14-day period. Another common reason is that personal details given during the sign up process could contain an error of some sort. The troublesome reason is that Betstar may be investigating your account for suspicious or possible fraudulent activity. In most instances, these suspensions can be removed easily by contacting Betstar Customer Service at support@betstar.com.au.

---

This can be done during the initial Betstar sign up process. After that, limits can be set by navigating to the "My Account" section and clicking on the "Responsible Gambling" button under the Account & Settings heading. Click or tap on the Managing Your Deposit Limit. Simply follow the prompts to complete the procedure.

---

This can be done online by clicking on the tab labeled "My Account" and then scroll through the options until you find an option to "Close your Account" or by contacting Betstar via email at support@betstar.com.au.

---

As long as your account is fully verified, withdrawals can be made by navigating to the "My Account" button in the navigation menu. Next, click the "Withdraw" button under the heading labelled Banking & Transactions. Pick the withdrawal method and enter the amount. Betstar is impressive for withdrawals because there is no minimum amount required.

---

If by bonus code, you mean a sign up bonus, there is none to be found, as the government agencies that regulate online gambling eliminated those sorts of bonuses. If you are looking for Betstar bonus codes for an established, verified and active Betstar account, those will mostly be bonus bets from a Betstar promotion.

---

Go to the Betstar website on your phone or computer and navigate to the My Account section. Look for the Verification Centre link. It will explain the process in detail, but basically, you need to supply 100 points of verification. Most people do this by uploading a drivers' license and one other form of ID.

---

We think of Betstar as a racing bookie first. They do have a full range of sports markets too, more than enough for the vast majority of punters.

---

Yes. There is a minimum $20 stake required. Phone bets can be placed by calling 1300 238 722.

---

As of mid-2022, Betstar does not have live streaming of sports and racing, but as part of the Entain Group that owns Ladbrokes, we expect Betstar to start offering live streaming options to their members in the near future.

---

The number of live markets will vary by season, day of week and time of day. Punters who like to wager on live markets should use their Betstar login to see how many live markets are on offer. Our most recent visit to the Betstar website showed live betting for more than 200 markets, with betting for tennis, basketball, cricket, golf and soccer.

---
Conclusion
As racing aficionados, we truly believe Betstar is a fine choice for racing punters. They have broad coverage of domestic and international racing markets.
They do a very good job with sports as well, offering all the important codes and some of the niche sports.
We have observed continuous modifications and improvements made by Betstar over the years we have followed them. Now, with the security of being backed by one of the largest online wagering corporations in Ladbrokes, Betstar offer the security and assurance of being associated with an international player that has been around for more than 100 years.
We would be comfortable recommending Betstar to any racing punter who appreciates competitive odds and superb wagering websites and mobile apps. Sports punters will find their needs fulfilled as well.
Owners: 
Entain, the parent group of Ladbrokes, Bookmaker.com and Neds
Products: 
Online wagering on racing and sports, novelty markets including entertainment, music, finance and politics
Support: 
telephone and email
Turnover on Deposited Funds:: 
1x
Phone Support: 
24/7 at 1300 238 782 (Australia) and +61 7 3184 9333 (International)
Live Betting Phone: 
1300 238 722 (Australia) and +61 8 7918 7300 (International)
Email Support: 
support@betstar.com.au
Post: 
PO Box 3321, Newstead, QLD, 4006
About The Author
John DeBiase has been following the online bookmaker industry since 2010. He takes pride in remaining objective and is immune to bookie pressure to supply favourable reviews. When he does not have a bookmaker under the microscope, John derives great satisfaction from his pursuits as a self-taught musician, handyman, and grandfather.