Punters interested in an alternative to Australian licensed online bookmakers might want to have a close look at Pinnacle. The truly bargain conscious will find superior odds and the lowest margins of any online bookmaker of which we are aware...
Punters who place frequent bets will appreciate the lowered costs of wagering with Pinnacle, however, those who are more casual in their approach; including the substantial bloc who will fund their account in time for weekend sports action, and then withdraw the money on Sunday evening will be put off by Pinnacle's considerably higher turnover requirements.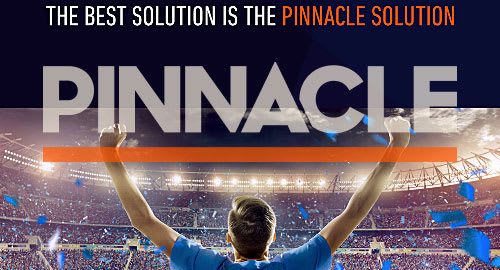 Pinnacle History
Pinnacle came into the picture in 1998, when most people were still using dial-up connections for the internet.
This was not much of an issue at that time; in-play wagering would not come along until high-speed internet became the ubiquitous presence it is today.
This bookmaker is licensed in the Caribbean island of Curacao. The serve over 100 countries where online wagering is permitted, so they offer language support in many languages and they accept many currencies, although they base a lot of their terms and conditions pertaining to minimum deposits and wagers of the U.S. dollar.
They started offering online casino games in 2004, but even as they move toward their 20th anniversary, they do not offer one single racing code of any kind, which seems rather odd, especially in the Australian market.
They also added a gaming license from the Malta Gaming Authority. The practical result of their license location is that they do not have any restrictions on in-play wagering online.
Originally operating under the name Pinnacle Sports, they shortened the name to simply Pinnacle in June of 2016.
What we do consider an issue is the high turnover requirements imposed by Pinnacle.
We have spent hours on the site without finding these requirements disclosed and one source informs us that they are buried deep within a web page that covers the rules for all the sports Pinnacle covers. We hate to be fooled.
At any rate, we believe Pinnacle to have turnover requirements of three-five times. A casual punter, basking in the glow of a nice win, will receive a rude awakening when they try to withdraw that win and face the prospect of a three percent fee on the funding deposit along with a withdrawal fee.
If you sign up with Pinnacle, be prepared to punt early and often.
We do not consider this as an indictment against Pinnacle; we offer the information only in the cause of helping you to make a good decision regarding an online wagering portal.
Pinnacle's minimum deposit and minimum wager are not the lowest, but with a range of $15 – 30 depending on funding method, it should not represent an issue for any but the most frugal of the frugal. The minimum wager is $1 USD, or the equivalent in whichever of the nearly 20 currency Pinnacle will accept.
Where Pinnacle truly shines is in the area of margin. They average 2.7 percent, more than two percent lower than the average for the Australian bookmakers. Where their margins can go even lower is in the soccer markets, where they can be around two percent. Compare that to Australian based bookmakers, where soccer will cost you six percent.
The other big selling point to Pinnacle is the odds. Their line odds typically hover in the 1.95 – 1.96 range, compared to 1.90 – 1.92 at Australian licensed bookmakers.
High volume punters will quickly appreciate the long-term savings of Pinnacle's low margins and odds.
Pinnacle does not offer any credit betting. They do claim that they will not restrict the accounts of winning punters, and anyone who has followed the ongoing scandal of other bookmakers freezing or restricting the accounts of punters who win too much or too often, even for comparatively small amounts, knows that if this claim is true, it is a very valuable facet of the Pinnacle operation.
The Pinnacle Wagering Interface
This requires some time to which to become accustomed, but it is unlikely to cause serious issues, provided that those new to the Pinnacle experience spend a little time gaining familiarity with navigating an manipulating the site before plunging right off into in-play betting.
Most punters will use Pinnacle for the major sports markets and access is fast and straightforward. One big adaptation will be the way the betting slip is filled out. Instead of having a market added to a betting slip when it is selected, awaiting the stake amount, a box will open up by the selected odds and the stake will be entered. This is also where the maximum permissible wager will be displayed, which is actually a useful feature.
Their terminology takes a few minutes to master as well. Those who have been doing quite well with decimal odds will find terms such as "1 x 2" and "money line" used to describe what is more commonly referred to as "head-to-head."
We really had no major issues with the website and it does what it is supposed to do without a lot of fuss.
Wagering With Pinnacle of Mobile Devices
Pinnacle does make mobile wagering available; after all, it would be suicidal not to offer a mobile application.
Even more so in their case since the usual rigmarole pertaining to the Australian Interactive Gambling Act does not apply. You are free to do as much online in-play wagering as you can handle. Since mobile wagering now represents such an important niche in the industry, we will look at Pinnacle's offering separately.

Pinnacle Markets
Once again, deeply discounted margins and better odds have a price associated with them.
In this case, it is the fact that although Pinnacle does offer essentially the same sports as do the Australian bookmakers, the number of markets within those sports is quite limited.
Australian punters need to be aware that AFL and NRL markets will be found by clicking on football, which, technically, is accurate, but those accustomed to separate links to those sports will need to adapt. Once there, there is typically only about three markets for any particular game, so some who enjoy the exotics, such as first goal scorer in the third quarter of an AFL game, and things of that nature, will be disappointed.
As would be expected from a bookmaker based in the Caribbean and marketed all over the world, international sports are well covered, including all the major U.S. sports leagues. Soccer punters will find plenty of different leagues.
Even though Pinnacle, through its licensing agency, does accept in-play wagers via the website, this function is a little unwieldy. Trying to see the latest odds requires the page to be refreshed, unlike the dynamic odds displays of the Australian bookmakers who have built this function into their odds pages. We also noted the lack of live video feeds of in-play markets.
It is totally beyond our feeble perception as to why Pinnacle does not offer any racing.
Highly computer literate punters will like the feature of Pinnacle that permits them to devise their own spreadsheets to update odds automatically.
Key Pinnacle Features
Pinnacle is proud of the claim that theirs's are the highest betting limits and payouts.
Maximum payouts range quite a bit and are shown whenever odds are viewed. They are one of the few bookmakers that do not prohibit arbitrage betting.
Pinnacle Pluses
The best way to approach Pinnacle is from the perspective of a shopper who chooses betwixt discount store and full-service stores.
Prices are lower, but selection and the wagering interface are minimal. With the acceptance of that fact, Pinnacle become entirely palatable to a large extent. Some will appreciate the myriad options for funding and withdrawal, whilst others will view this as a non-factor.
Pinnacle Minuses
Again, the discount store/full service store analogy applies.
The difference here is most apparent with a website that could stand more than a little polishing. Some observers have commented that the website can be slow at times, a real concern for live betting. Finally, no horse racing, gallops, jumps, or trots and no dog racing.
Conclusion
Pinnacle is best suited to professional punters who place a lot of wagers and wager in larger sums of money.
This is the only way to take advantage of the excellent odds and the low margins without being bogged down by the higher turnover requirements.
Of course, for those who want to adapt to the market Pinnacle serves, there is nothing to suggest that Pinnacle would be unsatisfactory.
Given the low minimum deposits and minimum wagers that are features of all the bookmakers, a membership with Pinnacle and one or more of the full service bookmakers would make a potent combination.