BoomBet Review
With its easy to navigate website and variety of betting products, Australian-based BoomBet is definitely a bookmaker you should try. Please note 25/3/21: As from this date, BoomBet are coming out with a brand new website in the next few weeks, so watch this space. Join BoomBet >>>
BoomBet Pros
BoomBet Is Australian Owned & Operated
Competitive Prices On All Racing & Sport
A Wide Range Of Deposit & Withdrawal Methods
Great & Easy To Use Mobile App
100% Australian Owned & Operated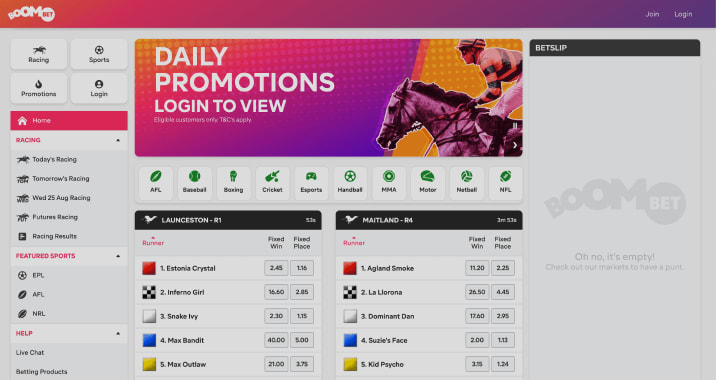 Boombet.com.au was online back when most of us were still struggling with dial-up connections and modems boasting top speeds of 56Kps, which goes a long way in supplying punters with reassurance that this is no here-today-gone-tomorrow agency. Join BoomBet >>>
They are Australian owned and operated and take great pride in offering what they consider a top level of customer service. Like many others, they are licensed by the Northern Territory government, which adds another layer of security.
Wagering Platform
The top of BoomBet's page has tabs for joining, promotions, banking (YAY!) products, rules, about, contact, responsible gambling and mobile betting.
The banking page alone would prompt us to give BoomBet six stars on a five-star scale; we cannot begin to count the number of times we visited bookie websites and spent time futilely trying to figure out which payment methods were accepted. Here, all is crystal-clear.
The main page took us straight to the familiar three-column layout, with the Racing and Sports codes on the left, odds in the centre and betting slip on the right.
The standout feature of this page is the use of contrasting colour to make it easy to keep your place. The colour scheme looked as though they had borrowed the orange crayon from Neds, and then toned it down a bit. This was combined with a light grey. Our eyes truly appreciated what they were seeing.
Odds & Markets
The tag line for BoomBet is, "No Gimmicks. Just great fixed odds betting," so this seemed the perfect opportunity to test that claim.
This is being written on the eve of the last race of Winx. We located the market quickly by clicking on Tomorrow's Racing in the left column. Randwick was the last venue listed. We knew that the Group 1 Queen Elizabeth Stakes was the seventh race, but we would have liked the feature some other bookies have, where hovering a cursor over a race supplies the name of that race.
Others also have a specific link for a big race in the left column, which is convenient, but BoomBet had no such.
At any rate, BoomBet was offering the same $1.06 we saw on many websites, while Happy Clapper, Hartnell and He's Eminent were identical at $21. Those prices were also identical to the quotes on Ladbrokes. Neds was the same, with the exception of having Hartnell at $26.
Before jumping to the conclusion that BoomBet's boast was an idle one, we decided to have a look at Round 4 of the AFL. The game of the week, to us, was the North Melbourne Kangaroos versus the Adelaide Crows.
Boombet.com.au took us to Round 4 with two clicks. Their head-to head quote was Roos $2, Crows 1.81. They had 14 additional markets. Ladbrokes had it $2, $1.80 with 227 markets, while Neds had it $2, $180 with 230 markets.
In our eyes, 14 markets are still plenty and most punters never go deeper than the head-to-head and the line, so we will leave you to form your own conclusion on this score. If you simply must have the over/under on the number of times Dusty Martin will expectorate in the first quarter of a match when Richmond are leading, it will require a different bookie.
There are sufficient betting products to satisfy most including a detailed form guide.
Information regarding minimum deposit and minimum bets proved elusive, even when we consulted third party sources we have long viewed as authoritative, but we believe the minimum online wager is $1 and this criterion for bookmaker selection holds little interest for most punters.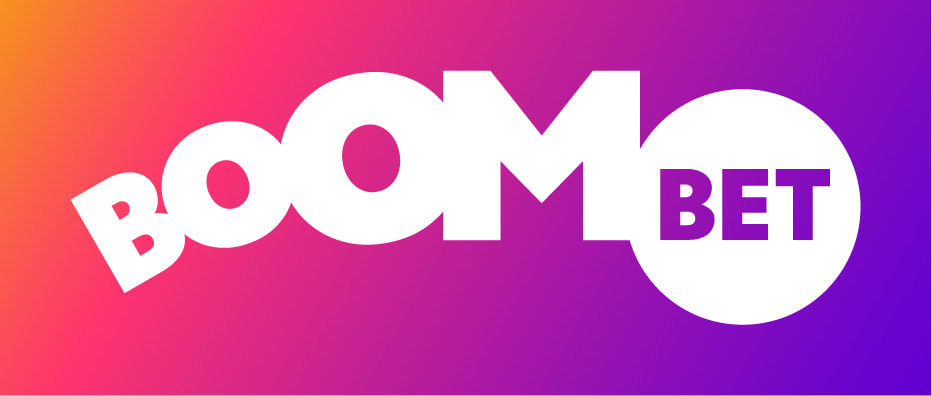 Mobile Wagering
Boombet.com.au offers mobile betting via a mobile version and apps for Android and iPhone. We truly appreciated that this feature was easy to locate, right on the top of the pages. Clicking on the tab took us straight to the instructions.
We dinosaurs from the 20th century fail to fully understand why mobile apps have the creepy permission they do have, so we always elect for the mobile version. We used an ancient Android smartphone, one that is close to three years old, to visit the BoomBet mobile site and found it to be a clone of the desktop website, which is something we have come to expect, but always appreciate. Join BoomBet >>>
Promotions
In line with their no-frills approach, BoomBet does not offer as many promotions as some of the other bookies. Here is what we found on our most recent visit:
Bonus Back for Second or Third. Any backed win runner in BoomBet nominated Thoroughbred races that runs second or third offers a stake refund of up to $50 as a bonus bet. A recent exam of this promotion, conducted during the middle of the week revealed six races eligible for the Bonus Back promotion. The races on offer will of course shift along with the racing calendar, so it is necessary to check the status of this promotion.
Protest Payout. BoomBet is not alone in offering Protest Payout. The scheme here pays punters who back a winner in a single bet where the winner is relegated as the result of an upheld protest. BoomBet understands how hard it is to pick the winner of a race and they have the Protest Payout to ease the frustration of picking a winner, only to see the outcome erased by a protest.
BoomBet touts itself as, No Gimmicks Just Great Fixed Odds Betting, but they have a decent array of promotions all the same. These, of course, vary with the seasons and there will always be something worth looking into when a big race event is on the calendar.
With this bookie, we could see ourselves checking the promotions tab as soon as we log in.
Betting Products
The list is extensive. BoomBet has 13 betting products. Racing bettors have Best Tote and Starting Price, Best Tote, Best of Two Totes, Middle Tote, Fixed Win and Fixed Place, Fixed Each Way, TopFluc and Best of the Best.
Sports punters have Line Betting, Points Betting, Matchups (fixtures with two outcomes), Total Points and Frist Scorer.
Not every betting product is available for every race or every sports fixture, but BoomBet members will never feel as though they need more.

BoomBet Odds
Focused on racing, we had a look, a brief snapshot view, of how BoomBet racing odds compared with some of the others.
We randomly selected a mid-week meeting at Wyong in New South Wales. We arbitrarily picked the sixth race of the meeting.
We were not prepared for what we found. We normally expect racing quotes to be tightly clustered with all the bookies. BoomBet was quoting $4.45 for the favourite. Ladbrokes was $3.90. We think anyone can appreciate the value of one price versus the other. BoomBet even beat bet365, although it was much closer, with bet365 quoting $4.40. Join BoomBet >>>
Banking
Again, BoomBet surpasses our usual expectations. Clicking on the Banking tab at the top of the page took us not only to deposit methods, but withdrawals as well. Sheer joy.
They accept POLi, debit and credit cards, direct deposit into their bank account and BPay. There is a $50 minimum to use BPay.
Withdrawals are made to the credit/debit card used for funding. Withdrawals to a bank account typically take place overnight.
Customer Service
BoomBet can be reached at support@boombet.com.au
. There is also a live chat feature and telephone numbers. They have developed a reputation for delivering customised customer service since they first started out in 1998. Punters who need a little help with the website, placing a bet, or understanding how a market or promotion functions will definitely appreciate the extra assistance BoomBet offers.
Conclusion
We like this bookmaker. The website, for the ease of locating pertinent information, is the best we have seen. We could see ourselves spending considerable time on it without feeling as though we had just run the gauntlet of the sights and sounds encountered in most casinos.
It is mildly remarkable that BoomBet has stayed local for over two decades, but they have a loyal customer base and few online bookies can boast of the longevity BoomBet possesses.
Some punters may want more markets. As for the claim of no gimmicks, BoomBet delivers. The claim regarding odds might be a bit of a stretch, but based on the limited markets we examined, the odds at BoomBet are certainly no worse than those of other bookies.
This bookmaker could serve well as a sole membership or in conjunction with other bookmakers.
The fact that BoomBet is Australia owned and operated is something that some punters might appreciate, although we know of few who would turn down a larger dividend out of national pride. Still, a bookie that understands the unique needs of the Australian punter is and always will be welcome in the ranks.
On the negative side, we found some tabs on the main page that took us to outdated video and previews of betting markets where the most current info we saw was nearly a year old.
Also, BoomBet expressly reserves the right to close or limit betting accounts of punters it deems "undesirable." We take that to mean punters who win, although BoomBet is far from alone when it comes to this tactic.