It would appear to the casual observer that female Thoroughbred jockeys would have a couple natural advantages over their male counterparts.
One, women are generally smaller and lighter, speaking from the perspective of the entire human race.
Two, the horses care not the gender of their riders.
Finding a male jockey who, one, has the ability and two, can keep the weight off is a challenging proposition. Finding a woman jockey with the necessary ability is not exceedingly difficult, as women have been riding horses for as long as horses have been ridden.
It is true that battling the scale is not strictly determined by gender, but starting smaller in most instances, women can focus more on riding and less on wasting to be ready to ride.
If ever there was a sports code where men and women can compete on equal footing, it would seem Thoroughbred racing is that code.
Many reasons could be put forth as to why it seems as though women jockeys have fewer opportunities.
There would be that crowd who claim, not without justification, that the racing community is truly a fraternity that discriminates against women.
Throughout history, though, women have been erroneously characterised as the "weaker sex," in the patriarchal societies we inhabit.
Those who sought to protect women from the dangers of horse racing often, not always, acted out of a sense of defending women from danger. Racing is, after all, one of the more dangerous things a person can do for a living on land, at least since jousting is no longer done for blood.
There might be more dangerous jobs in the air or on the water, but guiding 450 kg of Thoroughbred muscle across tracks, at speeds typically around 60 kph while surrounded by a pack of others doing the same thing, seems plenty dangerous.
Today's top betting sites
CHANCES ARE YOU'RE ABOUT TO LOSE. Set a deposit limit
Times Are Closer To Equality
Many women jockeys have proven this old-fashioned notion of protecting the female gender a false notion and while the first female Hugh Bowman or George Moore might be somewhere over the horizon, the times are shifting closer to equality. That notion even had a name, chivalry.
Finally, no one ever questioned the racing ability of mares and fillies and Australian Thoroughbred racing supplies recent examples in the likes of Makybe Diva, Black Caviar and Winx.
It is only in the last 50 years that women were permitted to participate in professional horseracing in Australia.
Once that happened, women were still mainly relegated to 'ladies only' events at smaller tracks, leading to the term 'Powder Puff Derbies.'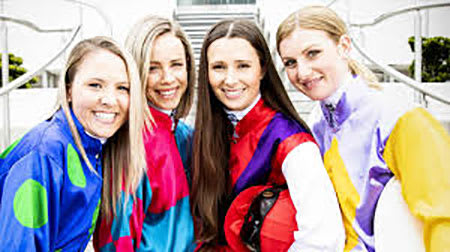 June Lossius nee Coulehan
It was 1973 when women's Thoroughbred racing made it onto the larger stage, with Brisbane being the locale and Eagle Farm the venue. It is true that the stage had grown but the race was still restricted to women jockeys.
The logic is questionable, as gravity does not discriminate based on gender, but it was still a march in the direction of progress.
By the way, that race was won by June Lossius, who was inspired by the book, "National Velvet." In the typical Aussie fashion of understatement, she told a reporter for ABC in 2013, "I was 42 years old, and I was an old chook, it was only my experience and I had a good horse, that I won that race."
A collection of her racing memorabilia is in the Australian Racing Museum in Melbourne.
June Lossius is officially recognised as the first woman jockey to win a race at one of the metro tracks.
This brief history is obviously incomplete, but all the details would require a book at the very least and more probably, an entire library.
First Women Jockeys Licensed in 1979
After the Eagle Farm win by June Lossius, another six years went by before the first official jockey licenses were conferred on women riders.
The first two licenses went to Pam O'Neil and Linda Jones. Historical accounts claim that the two women forced jockey club officials to grant women the right to compete against men in registered races.
It comes across as though the two were more militant feminists than they were riders looking for bookings, but on her first day out at Southport, Pam O'Neill rode a treble to establish a record as first rider of any gender to accomplish such a feat.
Just prior to Australia giving the green light to professional women jockeys, New Zealand accepted female jockeys to ride from 15 July 1978. Linda Jones was the first to apply for an apprentice's license, but she was turned down. She rode for many years in ladies events in New Zealand and Brazil. She had a big win on Big Bickies at Te Rapa. She rode Royal Petite to the first Open Handicap win by a female jockey. She won the Labour Day Cup at Doomben competing against men while riding Pay The Purple in May of 1979
Women Jockey Ring Ins
Prior to the more enlightened era where it was acknowledged that steering a horse did not require a Y chromosome, there were women who so strongly felt the need to compete and ride in men's Thoroughbred races that they resorted to lying about their gender.
One notable example is Wilhelmina Smith. She rode as Bill Smith at racecourses in north Queensland during the mid-1900s. She played the man quite well and even took advantage of her nickname, Bill "Girlie" Smith to hide in plain sight. The racing world did not learn of the ring in until she died in 1975, four years before Australian racing admitted women to the jockey ranks.
Another example is supplied by Elizabeth Williams Berry. She took the gender espionage act to Melbourne and international venues disguised as a boy and riding under the name of Jack Williams. E.W. Berry was born in Melbourne in 1854. She first rode as Jack Williams at the age of 13 and stay hidden for 24 years in Australia, England, South Africa, New Zealand, France and Italy. She moved to the U.S. around 1900, became a trainer eventually, and lived to see U.S. women granted jockey licenses to ride against men in 1969, just prior to her death at the age of 114 in the state of Montana. She claimed to have won over 4,000 races.
These two women, and doubtless probably others, pulled the wool over the eyes of the racing insiders and public in a way Fine Cotton never could.
Female Jockeys in the 1980s and 90s
The ability of women to receive a jockey license in the late 70s revealed the reality that while the lawmakers of the various racing jurisdictions wanted to sound the clarion call for gender equality in Thoroughbred racing, it would still be a long time before a woman jockey would break through to win a Group 1 race in Australia.
The decade of the 80s is notable for the paucity of information readily available about the results of women jockeys in Group racing, which had only begun that year when the ARB changed its race classification system.
Combing through various archives, the only two winners of Group 1 races in Australia in the 80s were both New Zealand born riders.
Diane Moseley won the Group 1 Doomben Cup in 1982 aboard a horse named Double You Em. This was a mostly obscure horse and more than anything else, demonstrated that women jockeys were often given horses of modest racing achievements.
The other Group 1 winner revealed was Maree Lyndon. The pair won the 1987 Adelaide Cup. Here is an example of a good horse going to a good rider. The Kiwi stayer won the Caulfield Cup that same year and would go on to win the Adelaide Cup in 1988 and 1989. Maree Lyndon was not aboard for the Caulfield Cup win. Neither did she have the ride for Lord Reims' Adelaide Cup wins in 1988 and 1989.
Why she did not have those rides in unclear, but the slap to Maree Lyndon that must have stung was giving Lord Reims up to another rider in the Caulfield Cup after she had steered him to the Adelaide Cup win earlier in the season.
Female jockeys doubtless continued to ride winners and experience success in the 1990s, but there were no major wins as best as can be determined from Thoroughbred racing archives and extensive internet research.
Women Jockeys Make Their Mark in the 21st Century
Female riders really gained traction when the calendar ticked over to 2000. There were many pioneers and trailblazers who laboured in anonymity, which can be said of male jockeys as well. There are riders who had all the ability necessary to shine at the metro tracks in the big races and this is where the actual reality of gender in racing is encountered.
No matter how talented a jockey is, no matter how dedicated and persistent to the craft of riding Thoroughbreds, if the horse does not pass muster, the best jockey in the world will easily become the best unemployed jockey.
Jockeys are somewhat akin to a footy coach in that when the footy players do not match expectations, the coach takes the blame.
Still, the ranks of female jockeys are growing and as off mid-2020, women comprise somewhere in the vicinity of 30 percent of the profession.
It makes sense. Male jockeys battle to stay between 50kg and 60kg, while for female riders, that range is easily maintained.
It seems that more and more women are signing on for apprenticeships and the 21st century finds chivalry mainly dead, trainers willing to give rides to good riders regardless of gender and a general recognition that it is getting easier to find talented women riders who yield no quarter when put on the track with men.
In short, Winx would have been Winx with Michelle Payne riding her just as much as she was Winx with High Bowman riding.
Here are some of the notables.
Clare Lindop
Clare Lindop was the first woman jockey to compete in the Melbourne Cup. She rode in the Melbourne Cup in 2003. She rode Debben, a mare of modest accomplishments to finish 19th from 23, the year Makybe Diva won for the first of her eventual three Cups.
She took over aboard Debben when Jason Holder could not get much out of her and immediately won the Listed Hamilton Holden St. Leger at Victoria Park. She beat Holden in that race.
That should have sufficed to silence any Doubting Toms who said, "See, a woman rider has no place in the Cup, when she and Debben finished ahead of just four others.
The horse never won after the win at Victoria Park, so while Clare Lindop may have enjoyed shattering the gender barrier in the Melbourne Cup, it is easy to speculate she would have been happy to win a lesser race.
No one could accuse Lindop of not trying. She rode almost 13,000 races, won several South Australia jockey premierships and won the first of her four Group 1 wins when she rode Rebel Raider to the win in the 2008 Victoria Derby. Lindop and Rebel Raider not only jumped from the car park, the horse was priced $101 and beat the $1.75 favourite Whobegotyou by 2.5 lengths.
The notable jockeys in that race were Damien Oliver, Craig Williams, Glen Boss and Jim Cassidy.
If Lindop could beat that group of prominent male jockeys while riding on of the worst priced horses in the race, it would tend to suggest the conclusion that female riders were not only equivalent, but also perhaps better than male riders were.
Clare Lindop and Rebel Raider together won the Group 1 South Australia Derby in May of 2009 and the Group 3 Spring Stakes at Morphettville in August of 2010.
Before those two Group 1 wins, Clare Lindop won her first Group 1 in 2006, when she rode Exalted Time to win the 2006 Adelaide Cup.
Exalted Time was a true warhorse, making 69 starts. Of his eight wins, Clare Lindop was the only on to get a Group 1 out of him. The pair jumped $10 and bet none other than the favourite, $3.60 Tubular Bells, steered by none other than Big Race Kerrin McEvoy by a length. Joe Bowditch, Blake Shinn, Dean Yendall and Craig Williams were some of the men jockeys beaten in that race.
One other note about Exalted Time.
He was ridden by other female jockeys, such as Tamara Zanker, Kayla Stra, Nicole Butler and Holly McKechnie, so it is clear that by this time, regular or exalted, women jockeys were commonplace.
Lindop's final Group 1 win came in 2011 when she rode Lone Rock for the win in The Goodwood Sprint at Morphettville. They won from $31, beating 10 shorter and some of the male jockeys in the race were Mark Zahra, Corey Brown, Zac Purton, Dwayne Dunn and Luke Nolen, along with some of the others already mentioned.
Clare Lindop would retire from racing with four Group 1 wins and over 1,400 wins and 2719 places from 12,965 starts. Her best season was 2015/16, when had 97 wins, but she had another season with 93 wins. She also lays claim to three Group 2 and 17 Group 3 wins, a line no jockey of either gender would dismiss.
Kathy O'Hara
Kathy O'Hara has two Group 1s to her credit as of mid-2020, but she is a solid chance to add to that, despite the high degree of difficulty involved in winning a Group 1 race.
Her first Group 1 win was the 2012 Coolmore Classic on Ofcourseican.
O'Hara succeeded at winning a Group 1 on Ofcourseican when luminaries including Hugh Bowman Tim Clark, Jim Cassidy and Tommy Berry had failed to get much from the horse.
The win was one of the last races for Ofcourseican.
It was a narrow win from $13, with six others priced equal or shorter. One of the other riders in that race was one that will be covered later.
Kathy O'Hara next won at Group 1 level when she steered Single Gaze for the win in the 2016 Vinery Stud Stakes. She rode Single Gaze many times, giving up her seat on a few occasions to Damien Oliver, Tommy Berry and Dwayne Dunn.
In the Vinery, O'Hara and Single Gaze jumped $12, the fifth line, and she might have supplied an ego-check to Hugh Bowman, who was riding Self Esteem. Other top male riders in the race included Brett Prebble, Blake Shinn, James McDonald and Brenton Avdulla, as well as some of the others mentioned earlier.
Jamie Kah
Jamie Kah is notable among women riders for having won two Group 1 races in the same year. The year was 2019 and the races were the Australian Cup on Harlem and the Makybe Diva Stakes on Gatting.
The Australian Cup win was a narrow win. The starting price was $31, one of the highest in the field and the other jockeys in the field were an assortment of present and future hall of fame riders. Even Bill Pike was lured from Western Australia and there were more than one jockey premiership riders in the barrier that day, along with notable horses such as Shillelagh, Avilius, The Taj Mahal, Melbourne Cup winner Almandin and Rekindling.
In short, this was no powder puff race.
Jamie Kah won her second Group 1 when she steered Gatting from the improbable price of $101 to beat Mystic Journey, Hartnell, Humidor and Gailo Chop to mention a few.
Also in the field that day was our next subject.
Linda Meech
Linda Meech has two Group 1 wins so far.
She won the 2015 Coolmore Classic on Plucky Belle and the 2020 Oakleigh Plate on Pippie.
Riding for Peter Moody, the win for Meech in the Coolmore Classic was yet another example of a female rider earning a win without the requirement of being given the irons of the favourite.
Lucky Belle jumped $16 and beat short-priced favourite First Seal ($1.60). Meech stood up under intense pressure to win by a nose in a race where 13 other gallopers were in the mix and five that finished behind Meech and Plucky Belle were less than a length back.
When Meech and Pippie won the 2020 Neds Oakleigh Plate, they jumped wide from $12 and beat the favourite Bivouac by 2.5 lengths. Worth mentioning is that in this race, second went to Zoutori, ridden by Jamie Kah.
If anything shows the strides made toward gender equality in racing, this would have to be the prime example.
Nikita Beriman, Lauren Stojakovic, Katelyn Mallyon, Rachel King
Beriman, Stojakovic, Mallyon and King all have one Group 1 win on their riding resumes.
Beriman won the 2007 Emirates Stakes on Tears I Cry ($101). Stojakovic won the 2013 Blue Diamond Stakes aboard Miracles Of Life ($3.20). Mallyon won the 2017 William Reid Stakes on Silent Sedition ($7.50) and King won the 2018 Spring Champion Stakes on Maid of Heaven ($14).
The only instance of these four riders being handed the favourite was the 2013 Blue Diamond Stakes.
Michelle Payne
The leading female Group 1 winner to mid-2020 is Michelle Payne.
Payne won the 2009 Toorak Handicap on Allez Wonder. They started for $41, beating 16 others, 11 of which were priced shorter. Hugh Bowman, Craig Williams, Tye Angland, Glen Boss and Damien Oliver found themselves behind Payne at Caulfield, where she was riding for none other than Bart Cummings.
Something notable from that race was that Group 1 winner Tears I Cry was in the field, finishing last, ridden by the only other female rider in the race, Christine Puls.
Michelle Payne's next Group 1 win was on Yosei. That came in the 2010 Thousand Guineas. Yosei would supply Payne with two more Group 1 wins, the 2010 AJC Sires Produce Stakes and the 2011 Tatts Tiara.
The Sires found the pair jumping from the rail for $18, beating six other shorter horses and a cast of male jockeys that would have been at home in an all-star legends race. Two Rawiller, Nash and Brad, one Bowman, Tommy Berry, Brenton Avdulla and Kerrin McEvoy were some of the hoops Payne beat and this is only a partial list.
At Eagle Farm for the Tatts Tiara, Yosei went out for $15, beating the $1.95 favourite Beaded.
History Made When Payne Takes 2015 Melbourne Cup
Michelle Payne took her prominent place in the Australian Thoroughbred racing history books when she teamed with Prince Of Penzance to win the 2015 Melbourne Cup as the first woman jockey to win the Race That Stops A Nation.
Prince Of Penzance was a modest horse and the quotes showed as much when he and Payne lined up on November 3 of 2015.
Even though he had won a few times, he jumped the Cup from the rail for $101, highest price in the field, matched only by Sertorius.
Darren Weir was the Prince's trainer. Eventually, Weir would turn out to be something less than the very model of a modern major general, but that is a different story. At the time, Weir enjoyed a solid reputation, so it was somewhat surprising that his horse was not given more respect.
Payne did something else in the win that was perhaps as remarkable as the win.
She started alongside Frankie Dettori and managed to stay clear of him from 3200 metres, something of which not many can boast.
Payne brought Prince Of Penzance home from eighth at the 400m and 800m marks and rode a race that was tactically superb by any measure for either gender.
While the chorus claiming that women riders were weak had been muted for some time, they still hummed their song of women being incapable of riding equally alongside men.
Payne silenced them permanently.
Conclusion
In a culture where women are still often relegated to subservience, Australia's women jockeys found the ideal stage from which to serve notice that they were equal to the challenge. They not only won big races, for the most part, they won them from odds that were seldom favourable. They also showed the stamina to ride thousands of races, never asking for any concessions for their gender, only for an opportunity to prove equal to the task of piloting Thoroughbreds over Australia's racecourses.
The trend seems to be in the direction of more, not fewer, women jockeys and the clear and obvious message is that in the Sport of Kings, the Queens will be served.